Through our overall commitment to conservation and sustainability, which can be seen in our approach to teaching, research, public awareness organizations, and dedication to preserving the environment, we are dedicated to ensuring that these measures become a way of life on campus.
The Cyprus International University Sustainability Program is comprised of the Sustainable Energy Research Center and the Students for a Sustainable Campus team. Together, we work hard to increase and create awareness about important environmental issues and take active steps to implement them.
Sustainable Development Goals
You can find out more information about our commitment to a more sustainable future with our actions in support of achieving the Sustainable Development Goals at the Cyprus International University. 
See More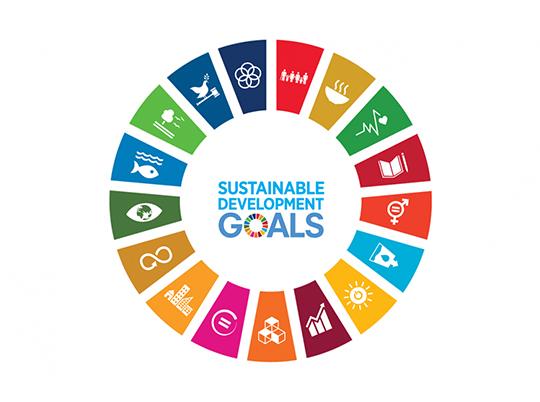 Students for a Sustainable Campus
Students for a Sustainable Campus (SSC) is an inclusive and multidisciplinary student project that works on long-lasting sustainable practices, both on and off-campus, through education, engagement and direct action.
Since its founding in 2017, SSC has grown and evolved into a project that is not only active on campus but also active on an international level as well. SSC works on diverse issues such as climate change, environmental justice, water conservation, waste management, energy efficiency and clean energy, green transportation, and pursues initiatives and outreach efforts to build a more just and sustainable world.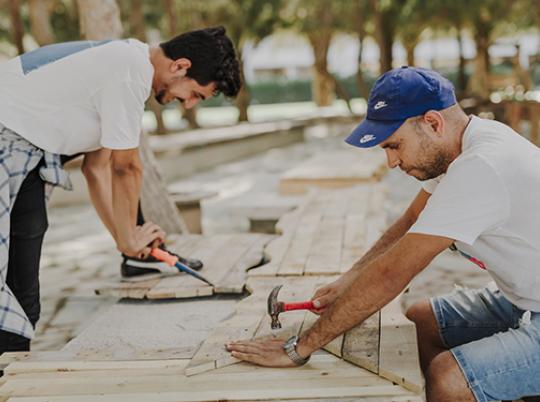 Sustainable Energy Research Center
The Sustainable Energy Research Center (SERC) was founded in 2009 as a Center of Excellence at CIU. Since then, the center has conducted many research projects; mainly on alternative energy resources and related certification/education programs. SERC also provides services and carries out studies on active consultancy on solar power installation design. Two examples of these are the Civil Defense Organization and Middle East Technical University. The Photovoltaic Expert Certification Program is a three-day program that includes an introduction to solar energy, photovoltaic system definitions, techno-economic analyses, and on-site practices. Multiple research projects include photovoltaics, solar thermal systems, energy efficiency/management, energy policy consultancy on renewable energy, and energy efficiency to the Economy and Energy Ministry of Northern Cyprus.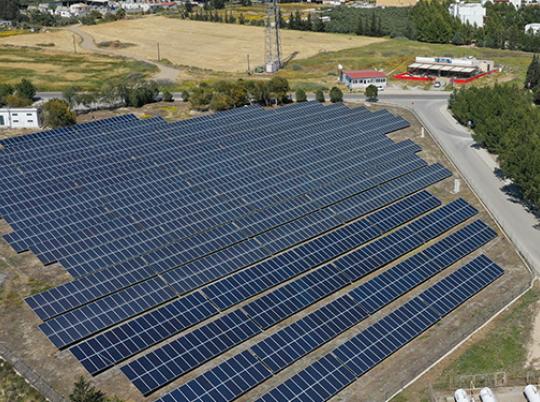 Science and Technology Center
The Science and Technology Center is a 15,500 m2 building dedicated to education and research. The design principle of the building entails the use of architecture to create energy efficient spaces without compromising function and aesthetics. The Science and Technology Center includes the following energy conservation measures implemented in the building: building-integrated photovoltaic panels, natural ventilation using solar chimneys, shading structures, high efficiency heating, ventilation, and air conditioning systems, lighting systems technology, and automated building management.
Solar Power
CIU's photovoltaic solar farm, with a peak power production of 1.1 MW capacity, was installed in 2014 under SERC headed by CIU Vice Rector Prof. Dr. Serkan Abbasoğlu. The system's annual energy production is around 1,750,000 kWh.
Setting a Global Example
By covering an area of 14,000 m2 along the Northern border of the campus, not only is this the largest PV project in Northern Cyprus but also with additional installations, it constitutes an example of how solar panels can be applied on different surfaces. Solar panels in Cyprus are traditionally installed over the roof or on land; however, within the context of the present project, panels were installed in 4 different configurations; on a level roof, inclined roof, on land, and on carports. ''With a total installation cost of 1.5 million Euros, we knew this was a very substantial investment for the university. An in-depth feasibility study was conducted to ensure all aspects of this investment were covered,'' said Abbasoğlu. The resulting study was published in ''Solar Energy'', which is one of the most respected journals in the domain of solar power in the field. "Since the commissioning of the plant, we carried out sensitive measurements and compared our findings and pre-simulation results with the help of our new data center that was set up for this purpose."
Not only has the Solar Farm attracted a lot of interest on the island, which is infamous for its 300 days of sun per year and making it an ideal location for such applications, but the farm has also received many visitors from countries like Pakistan, the USA, Iran, China, and Turkey. 350 thousand kilowatts for the Northern Cyprus Power Transmission Line. A total of 4,131 panels in five different locations were used to generate electricity. By taking an active role as a consultant for other organizations like the Civil Defense Organization, Middle East Technical University, and the Turkish Cypriot Chamber of Industry, Prof. Dr. Abbasoğlu said that he provides consultation to all parties interested.
Waste & Recycling
The on-campus recycling program started by SSC aimed not only at reducing the amount of waste produced but also aimed at turning waste into products the students and staff can use. Students and facilities on campus were encouraged to use less plastic-based materials and with this initiative, plastic bottles started to be collected and reused wherever possible to make furniture and other products. Waste paper is now collected all across campus and in a recently established recycling facility, this waste is recycled into products like gift cards, pencils, and special purpose paper.
Water
We do not let a drop of water go to waste! All of the grey water generated on campus, which is approximately 1300 tons, is recycled and used for irrigation.
Education
The SSC team has been conducting educational seminars on Sustainability and the Environment in both Northern Cyprus and abroad. Education is one of the best tools for creating awareness for sustainability, the environment, and how to preserve it for future generations. We are dedicated to providing this education both locally and internationally. We believe that sustainable education is the very first step needed to help save our environment. On March 3rd-5th, 2019 members of SSC traveled to Azerbaijan and visited high schools to hold seminars titled: "Students for a Sustainable World". In the cities of Shemkir and Gence, they reached out to over 150 high schools and spoke about sustainability and the environment, sharing their experiences and how they can be applied in Azerbaijan. Students were very interested to learning more, which was reflected in the Q&A session where the CIU team was bombarded with a plethora of questions. Similar seminars were held in Tbilisi, Georgia, and also received a lot of interest from students.
We are Nature Cafe
After a successful year of different activities SSC came up with their latest idea: "We are Nature Cafe". Unlike your traditional coffee shop, "We Are Nature Cafe" is not an ordinary place for students and staff to go and have a cup of coffee during their free times. On the contrary, this is a self-sustaining center that seeks to bring together environmental and economic sustainability. Our cafe is used as a tool to reduce the waste on campus and to educate students regarding the adverse effects of single-use plastic.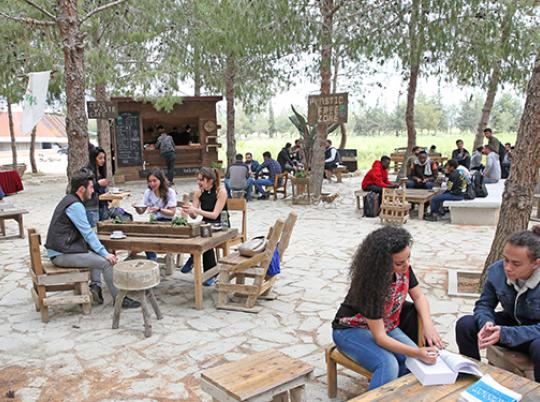 ENVIRONMENTALLY SAVY
Single-use waste is one of the biggest environmental challenges the world is facing today. Our aim at the cafe is not only to eliminate non-renewable waste but also to grow our own organic vegetables, in which seeds are imported from many different countries, which in turn will provide an opportunity for students to taste the flavors of the countries their friends are from. All organic waste from the cafe is turned into composte and reused as fertilizer in our sustainable garden.
CULTURALLY ENTHUSIASTIC
Various cultural events are organized at the We Are Nature Cafe throughout the year. Dishes from different countries are prepared and served, allowing students to taste international cuisine. Art exhibitions also take place to encourage our students to showcase their talents and share a reflection of their culture. This area is designated as the Plastic Free Zone (PFZ) and we hope that you do not bring plastic to the area. The Center is managed by Students for a Sustainable Campus, which too is a CIU student-run project.
GreenMetrics
As the first university in Northern Cyprus to be included in the UI Greenmetric World University Rankings in 2018, CIU has developed upon this success and within the last 5 years, CIU has established a place as the best university campus representing Cyprus. According to the 2022 UI GreenMetric World University Rankings, CIU has climbed 304 places in the past 5 years and was ranked 71st place as the world's the most sustainable university. In addition, CIU's campus, which currently ranks among the top 2 across Turkey, continues to work in the area of sustainability. GreenMetric rankings aim to provide the current condition and policies related to Green Campus and Sustainability policies in universities around the world based on survey results. This ranking was launched in 2010 to create awareness by universities and to provide attention and focus on global climate change, energy and water conservation, waste recycling, and green transportation. Please click here to read more. 
2018 GreenMetric Report
2019 GreenMetric Report
2020 GreenMetric Report
2021 GreenMetric Report
2022 GreenMetric Report
REGIONAL WORKSHOP ON UI GREENMETRIC WORLD UNIVERSITY RANKINGS FOR MEDITERRANEAN UNIVERSITIES
At Cyprus International University, we take important steps in the fields of energy efficiency, waste management, environment-friendly designs, and the use of alternative energy sources to produce solutions through research and to solve important problems that may pose a risk for our world and the future of humanity. One of these steps was a workshop we organized with UI GreenMetrics. UI GreenMetrics evaluates universities in terms of sustainability, ranks them according to some indicators, and aims to bring sustainability in higher education to the forefront at the global level.
Times Higher Education- Impact Rankings
The Cyprus International University recognizes the impacts of greenhouse gas emissions due to anthropogenic activities on earth both locally and globally. Thus, the university is dedicated to mitigating these effects through its operations, research, and education facilities. Therefore, the university applied to be ranked by the Times Higher Education for its efforts and ranked within the 201-300 band on the "Affordable and Clean Energy" goal and 601-800 band on the "Good Health and Wellbeing" goal in the 2022 Impact Rankings. Some of the relevant documents can be seen at the links below. 
SDG 3: Good Health and Well Being Report
SDG 7: Clean and Affordable Energy Report
CIU Energy and Divestment Policy
CIU Sustainability Plan and Process