About the Program
The Master in Architecture (M.Arch.) program provides students with a wide perspective by encouraging them to specialize in various areas of architecture. Students gain the required experience of understanding details by evaluating it systematically through the means of different research methods and techniques. Through a number of core and elective courses, students develop their written and spoken skills, sensitivity and understanding by discussing architectural focus within a well-disciplined approach. The program trains students to become self-confident and independent-minded so that they can pursue a successful professional life.
The medium of instruction for the the Master in Architecture (M.Arch.) program is English and a thesis must be submitted for the successful completion of the program. Graduate Studio I and Graduate Studio II are the core courses with other courses being elective. Students must take seven courses, seminar and prepare a thesis.
Education Opportunities
Department of Architecture, within the Institute of Graduate Studies and Research, has different qualities regarding the relationship of educational context and scientific fields, the criteria for student acceptance and the institutional framework of the profession. Master in Architecture (M.Arch.) program, considering the multidisciplinary structure of architecture, includes the fields of architectural theory and methods, conservation and restoration, environmental design and technology.
There are 24 full-time, 12 part-time instructors and 4 research assistants in the Department of Architecture, Faculty of Fine Arts Design and Architecture. Considering the development and academic progress of the young academic staff, and ongoing accreditation processes; the Department of Architecture supports the education and research programs at postgraduate level including projects for the public that reflect societal, environmental, cultural and technical dimensions.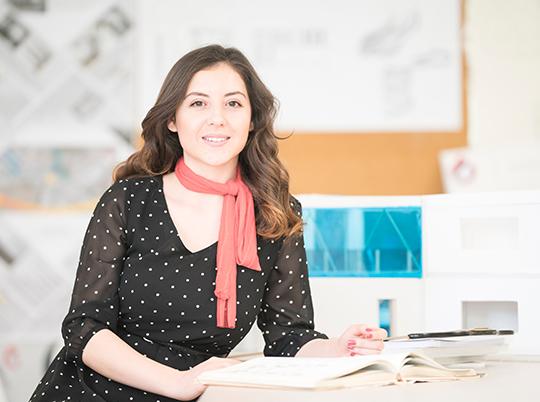 Career Areas
Architects have an extensive field of work as they graduate from the Department of Architecture capable of working with different design disciplines. Graduates of this department can work as freelance architects or as in-house architects in an architectural office; open their own architectural design office; take part in industrial or design process related to technology for the development and production of construction materials; or concentrate on the urban environment. They also have the opportunity to work in research and education as academics.
An architect can have a successful career by making accurate use of human relations and psychology at all stages of their create process. Many architects have achieved successful professions in different fields such as literature, media, cinema, music, industry and entrepreneurship with their original perspective and creativity developed through architectural education.
Compulsory modules
First Semester
Second Semester
THESIS
Master thesis refers supervised independent research on a topic arranged between the student and faculty member who is assigned as supervisor and approved by the Institute. Graduate students should show their competency in the profession by making the necessary research and writing a research report under the guidance of their supervisor. The student will be responsible to read the recommended readings and to make the research related with the topic. After mutual discussions and critics the student will finalize the thesis. The dissertation must be an original contribution to the field of Architecture, enhancing analytical thinking and developing a systematic approach to the research problem. The research may have qualitative, quantitative or mixed design of research methods.
GRADUATE STUDIO I
The studio focuses on the development of a single architectural project over the duration of the semester which also deals with the contemporary cultural, environmental, technical, social and political contexts. The course aims to enable the research students to reach and understand the available environmental evaluation tools of buildings in terms of sustainable building design; and to develop an evaluation skill to measure the environmental performance of their architectural design. The studio suggests a critical approach towards design. It is planned to provide the necessary knowledge and skills to deal with specific design problems, particularly related to the understanding of space, materials and detailing, through lectures, site trips and studio work. The course approaches design as an iterative process including reading, research, critical thinking and presenting.
GRADUATE STUDIO II
The studio focuses on the development of a single architectural project over the duration of the semester alongside studying different case studies. The students are expected to conduct their own research in the studio under the supervision of the instructors where they analyse, test and criticize these particular case studies. These studies may be structured around different theoretical concepts or typologies. The studio is supported by theoretical readings and/or individual research. The students are expected to approach critically towards the relationship between form and the program. Projects in the studio can be in various scales and sites. It may include different project briefs, and complexities. They should ponder on spatial and experiential quality, technical proficiency, and conceptual basis, as well as the aesthetic and ethical qualities.
SEMINAR
The aim of this major area unit is to develop students' systematic and methodological capability of architectural academic research, improve their ability to research, investigate, evaluate, interpret and synthesize theoretical knowledge and/or practical works independently and unconventionally, and to discuss and present their ideas academically. Graduate seminar gives an opportunity for independent study in various aspects of the research. Small group discussion and critique sessions with faculty supervisors and students are provided. Seminar focuses on dissertation, data collection, programming, building, site selection, design development, documentation and presentation. The course includes the expression of the topic, the discussion on the related theoretical and practical issues, presentation of the consequences, the discussion of seminar subjects of each students with their supervisors.
Optional modules
INTRODUCTION TO ARCHITECTURAL RESEARCH
This course aims to understand the conceptual framework in an architectural research. The course focuses on the research methods and it aims to provide students qualitative and quantitative skills; and to help students to conceptualize how research can be used in the design process, and how research findings can be integrated into design. The content of the course includes the definition of a research, the process of problem statement, the methodology of literature review, data collection and evaluation, which are correlated with the research design. The students are expected to study a textbook/paper or a case study by its various interpretations; and to define, plan, execute and complete a research project; and understand the basic principles of scientific investigation and the architectural research process.
SPACE, PLACE AND PLACE - MAKING
HUMAN FACTORS IN ARCHITECTURAL DESIGN
Design process of a building starts with the user requirements and activities. Then the building is designed and constructed based on those of requirements and activities. To measure the performance of the occupied building whether it meets the expectations of the design team and the users Post Occupancy Evaluation (POE) processes start. POEs are tools used to clarify the relationships between human behavior and the physical environment. Diversity of needs, values, behavioral norms, and social and spatial patterns that characterize different cultures are examined. The implications of this diversity for the societal roles and responsibilities of architects are also considered. POEs are useful tools to identify if the building delivers desired functional use and best value for the investment.
TYPOMORPHOLOGICAL ANALYSIS IN URBAN STUDIES
DEVELOPMENT OF CONTEMPORARY ARCHITECTURE
ERGONOMICS
This course aims to develop the student's ability to critically appraise the knowledge of human factors aspects of indoor ambient environmental conditions. Students analyze the human factors, anthropometric data and their impacts on broad aspects of design development. The physiology and psychology of the client/user are one of the main factors influencing the design of the environment. This course will present design problems that explore issues of ergonomics and proxemics as they apply to interior design. Universal design, the design that creates accessibility, will be the context for the design problems. Discussions will cover the following: interaction of environment and the user's culture, gender, stage of the life cycle, and physical capabilities.
ARCHITECTURE AND THE CITY IN SCIENCE FICTION MOVIES
The course scrutinizes the meaning and significance of architecture and urban space in science fiction movies and how architecture is displayed in dystopian visions of the future in movies of the modern and post-modern eras. The dystopian visions repeatedly suggest an anti-democratic future world of surveillance controlled by the international corporations and authoritarian administrations. The architecture of these worlds is variously rendered in Art Déco, Classicism, the International Style, Brutalism, High Tech / Slick Tech, an eclectic Historicism, in vernacular and "eco-" forms, and situated in (decayed) skyscraper mega-cities or within an idyllic natural environment. The course is based on the analysis of selected movies and the reading of scholarly literature on the subject.
INTRODUCTION TO EXHIBITION DESIGN
COMPUTERS IN DESIGN
This course focuses on each student's personal design vision. Students explore the specific skills necessary to design posters, catalogues as a unique means of communication. The aim of this course is that introducing students and providing comprehensive knowledge with practices to Graphic Design and digital media applications. Working from concept to finished artwork, students develop to transfer the creative thinking to applications and digital Graphic Design tools, methods and strategies for producing effective graphic design solutions. This course aims to analyze and implement the basics of 2 dimensional and 3 dimensional modeling and design in graphic design by using Adobe Programs.
ARCHITECTURAL HERITAGE RECORDING
GLASS STRUCTURE
The objective of this course is to provide knowledge on the static of advance glass structural systems. Analyze some real systems in detail. Glass facade coating systems and application details will be examined. The course focuses on the suspended glass systems with pre-stressed cable truss (SGSPCT) structure in detail. Design criteria and structural solutions will be examined for suspended glass systems with pre-stress cable truss. The course also focusing glass annex buildings. Historical buildings additions with glass and how can be design and construction also part of the course.1/10 articulated bold and many other detail also will be discuss at the course. Problem solving strategies and behaviour of the stone and glass will be discuss at the course and the reading materials.
DISCUSSIONS ON ARCHITECTURAL DESIGN FUTURES
COMPOSITE BUILDING MATERIALS AND DESIGN PRINCIPLES
SPACE, FORM AND SUSTAINABLE TECHNOLOGY
LIGHTING AND COLOR
The aim of the course is to teach the students general color knowledge, color harmony rules, cultural and psychological effects of color, and to provide sustainable use of color in graphic design. The use of color language in subjects such as photography, graphic design, image and meaning, cinema aesthetics is investigated. The effects of color on culture are examined, students conduct research on the relationship between color and culture, write reports and make presentations. Discusses the common and different areas of societies' understanding of color. Observation-based studies are conducted on concepts and images in the context of color and light. The findings obtained from the observations are discussed in the classroom environment and color and image interaction is tried to be defined.
INTRODUCTION TO INTERIORS
ARCHITECTURAL ENVIRONMENTS AND SPACE
ARCHITECTURAL DESIGN-III
The aim of this course is helping students in designing buildings and their environments and/or forming spatial patterns considering the urban and environmental context of high rise public buildings such as offices, hospitals, dormitories, mix use buildings and etc. It also helps students in structuring the necessary orders by researching the properties of the given (virtual and/or natural) topography and the architectural context. Researching to find appropriate construction systems and materials considering the new and advanced technologies of high rise buildings, vertical circulation, accessibility, climate, building physics, urban identity and skyline problems. Understanding different design languages and enhancing design vocabularies by doing research on different applications, Developing self motivation, imagination through generation of ideas and concepts, Exploring advanced representational materials and techniques, modelling, sketching as a way of developing ideas and concepts, computer aided image production, Identification of self mental and manual skills in order to form the individual styles.
HISTORY OF TURKISH & CYPRIOT ARCHITECTURE
HISTORY OF CONTEMPORARY ARCHITECTURE
SEMIOTICS OF IMAGE
This course explores the relationship between image and meaning. Students learn and use visual semiotic analysis approach. Advertisements, signs, symbols, films and everyday objects may be the subject of research. Art exhibitions and artwork are also suitable for research environments. The connection between image and meaning is examined in the context of Barthes, Panofsky and Fiske's theories. The relationship between signifier, signifier, sign, semantic definitions, semantic, syntactic and functional analysis methods are investigated and evaluated. Students write observations and semiotic analyzes and report on related topics. Visual materials such as exhibitions, works of art and films can be considered as a subject for examinations.
FILM AESTHETICS
This course aims to develop the skills and knowledge necessary for analyzing film as an art and an aesthetic category. The course focuses on film theories and film criticism and gives special attention to detailed film analyses. Within this context it examines and analyzes the film styles of "auteur" filmmakers and compares their cinematographic styles with those of mainstream filmmakers.
DESIGN ETHICS AND LEGAL ISSUES
This course intends to clarify the following questions: What is a trademark? How and why is it registered? What is an invention? Patents and utility models. What is a design? How is it protected? Intellectual property, artistic property and copyrights. Design law in practice in TRNC, Turkey and EU. Comprehension of ethical issues in design practice, ability to make firm planning and positioning, competence of managing the business's finances; preparing design contracts and product pricing, proficiency of dealing with human resources; contracts; agreement with clients; marketing and outreach. Protection of trademarks, designs, and inventions by licence. Design piracy prohibition and related acts. Studies on detail processing, specification writing, surveying and building codes, cost analysis. Working out diagrams, charts and matrices.
PARADIGMS ON ARCHITECTURE
ARCHITECTURAL HERITAGE RECORDING
ENVIRONMENT-BEHAVIOR THEORIES
PERFORMANCE OF BUILDING ELEMENTS UNDER ENVIRONMENTAL EFFECTS
CREATIVITY IN ARCHITECTURE DEISGN AND THE ROLE OF METAPHORS
ORGANIZATIONAL COMMUNICATION
This course is designed to examine the internal and external communication systems of business organizations. It is also examined that the uses of communication media such as internet and intranet in organizations.
HISTORY OF EUROPEAN ARCHITECTURE
FEMALE STEREOTYPES IN DESIGN
The scope of the Female Stereotypes in Design course focuses on the history of graphic design to understand how ingrained stereotypes of women emerged and became widespread today. In general, social changes that took place in the Western civilisation during the Industrial Revolution, World War I, the interwar period, World War II, the post-war period, and the Second Wave of Feminism and their effects on women and their image will be discussed. In this regard, similarities between the various images of women generated in the processes of social change will be compared through posters, and the repetitions in the presentation of these images will be traced during class. Besides these lectures, students will also present their research on the topic for a class discussion.
RESEARCH METHODS
In this course, students learn and apply the research methods. They understand how to use the methods such as observation, interview, survey and case analysis. Learning to write a report, an article or a thesis and how to research and learn to search literature are the gains of this course. Students are informed about research methods, and how to use the primary and secondary sources and the ethical writing rules in a content. They will find out how the result of the research will turn into a report, and how the data will turn into an academic text. It is expected that at the end of the semester, students submitted their own academic study.
EFFECTS OF CLIMATE AND ENERGY ON SETTLEMENTS DEISGN
HISTORY OF FURNITURE AND ARCHITECTURE
The course enhances student's critical comprehension of historic styles and the impact they have on contemporary design solutions. The survey begins with the Egyptian period and provides an overview of the history of furniture and architecture through the Industrial Revolution, including ancient Greece and Rome, the Gothic and Renaissance, Baroque and Rococo periods. Emphasis will be placed on chronological periods, the visual characteristics of each style including regional idiosyncrasies, and the terminology relevant to a study of furniture and architecture. The second part of the course extends the investigation into the 20th century, while addressing issues concerning preservation, restoration, rehabilitation, and adaptive re-use. With field trips and onsite work, students will become actively involved in stylistic progression and local living history.
RESTORATION AND PRESERVATION I
INTRODUCTION TO URBAN PLANING AND DESIGN
INTRODUCTION TO LANDSCAPE ARCHITECTURE
INTEGRATED APPLICATION PROJECT
This course aims to synthesise the occupational knowledge gained in the theoretical disciplines and the actual application. Students are provided with the awareness and ability of integrating the environmental, spatial, structural, functional and aesthetical decisions that are essential for the construction of a building in a holistic manner. Within this context, it is aimed to encourage students to search and to create their own solutions according to their project proposals. The course deals with the application drawings of the completed architectural project in detail and the expression and presentation techniques and standards that are applied in harmony with the working stages. Within this process, it is also expected to equip students with professional practice.
CONCRETE TECHNOLOGY
The course on "Concrete Technology" focuses on concrete making materials including supplementary cementitious materials. Concrete production process also forms a part of the discussion. Going through the course one would develop first-hand knowledge on concrete production process and properties and uses of concrete as a modern material of construction. The courses will enable one to make appropriate decision regarding ingredient selection and use of concrete. The course is investigated, concrete types and practical application. It helps the selection of concrete and arranges the mix proportions (mix design), fresh and hardened concrete properties. Mechanical and thermal properties of concrete are considered to Curing technology and shrinkage/crack sensitivity. And also Permeability and durability with regard to physical and chemical deterioration, including reinforcement corrosion.
CONSTRUCTION PLANNING AND SCHEDULING
This course aims to increase and improve the working knowledge of students in project planning & scheduling by means of introducing students to the advanced principles of project planning, scheduling, and control. The objective is for the student to develop an understanding of the advanced concepts of project planning, scheduling and control, and of the methods and tools utilized to implement those principles. To achieve the objective following concepts are covered in depth. Phases of project. Contractual arrangements. Organisational structure. Work breakdown structure (WBS) and coding system. Deterministic scheduling techniques. Linking WBS and critical path method (CPM). Statistical approach to project scheduling. Project control. Reporting progress. Resources management. Least cost scheduling.
NEW COMMUNICATION TECHNOLOGIES
Focusing primarily on the internet and digital cultures, this course will explore the theoretical and practical debates that have developed around the concept of 'new media'. Topics to be studied include interactivity, social networking, media convergence, cyberculture and the emergence of 'web 2.0'. Are these developments anticipated by pre-existing studies of communication practice, or are new theoretical models required to understand them?
SUPPLY CHAIN MANAGEMENT
Supply chain management course provides an insight to logistics and supply chain concepts and explores the management of supply chains to improve an organization's overall supply efficiency. The course also addresses all steps of the supply chain process, including procurement of materials, shipping, warehousing and distribution of finished goods. Other concepts included can be listed as the definitions of supply chains (and related supply chain concepts), identification procedures, an overview of methods, processes, and systems that are used in the operation of supply chains, and the applications of methods, processes, and systems to improve supply chain performance.
RESEARCH METHODS
This course is designed to be a background pass to graduate studies. The ability to formulate a research question, finding the data relevant to research questions, analyze those data, and presentation of research findings are skills that will be acquired through this course. Scientific thinking skills and methods of research, using library and online archives, experimental design, and presenting quantitative data are modules covered within the scope of this course. Scientific communication, writing research proposals, scientific reporting and thesis writing are also supported. Conference presentations, time management in research projects, ethical issues, plagiarism and skills of working in a group and networking are also highlighted throughout the semester.
BEHAVIOUR AND ANALYSIS OF STRUCTURES II
RESTORATION AND PRESERVATION-I
This course, in which the theoretical basis related to the preservation of historical structures is formed, includes preservation of historical environment, history of contemporary preservation, restoration and refitting techniques, preservation standards, definition of valuable structures, domestic and international regulations and organizations regarding preservation, examples from the world heritage list and exemplary structures that are preserved. The course also includes understanding the deterioration on structures and the underlying reasons and how to make the necessary archive research before starting a restoration project of a historical structure. The aim of the course can be listed as analyzing the current condition of a historical structure and identifying necessary preservation techniques and offering suggestions as to the reuse of the structures.
Students who are interested in pursuing advanced graduate studies leading to a master's, doctoral degree, or professional doctorate degree for the Fall and Spring semesters every year. Applicants can directly apply online to our graduate programs using the application portal.
TR Applicants- Required documents:
Bachelor's Degree Diploma
Bachelor's Degree transcripts for each completed academic term/year.
Valid ALES result document (must not exceed 5 years),
Documents to prove English proficiency for English language departments,
Scanned copy of passport or identity card.
Click for detailed admission requirements information.
TRNC Applicants- Required documents:
Bachelor's Degree Diploma
Bachelor's Degree transcripts for each completed academic term/year.
Documents to prove English proficiency for English language departments,
Scanned copy of passport or identity card.
Click for detailed admission requirements information.
Students who are interested in pursuing advanced graduate studies leading to a master's, doctoral degree, or professional doctorate degree for the Fall and Spring semesters every year. Applicants can directly apply online to our graduate programs using the application portal.
International Applicants- Required documents;
Bachelor's Degree Diploma
Bachelor's Degree transcripts for each completed academic term/year.
Evidence of English Language competence: TOEFL (65 IBT) or IELTS (5.5). Students without these documents will take the CIU English proficiency exam on campus following arrival.
Scanned copy of international passport/birth certificate
CV
Fully completed and signed CIU Rules and Regulations document (which can be downloaded during the online application)
Click for detailed admission requirements information.
Cyprus International University provides academic scholarships for its students as an incentive for success, with most students benefiting from 50%, 75% or 100% scholarships or discounted tuition fees. Click for more information.
| | |
| --- | --- |
| Fee pe​r course     | € 350,00 |
| Fee for thesis     | € 1.050,00 |
| Fee for seminar     | € 120,00  |
| Scientific Foundation per course     | € 150,00 |
| Registration and other fees* | € 245,00 |
| Student Union fee | € 50,00     |
|   | VAT Exc. |
*Applies to 1st. Year students. € 195,00 for others.