About the Program
Bioengineering has developed in the last thirty-five years as a result of the rapid progress in molecular biology, biochemistry, microbiology, cell metabolism, basic engineering, and materials science. It has emerged as a new branch of science, used where biological techniques and engineering principles are applied to living systems and their problems. Bioengineers have a major role in biological innovations from decoding the source of life to synthesizing cells. Graduates of this program earn the title of bioengineers.
The Bioengineering Undergraduate Program aims to develop new technologies by using biological systems and processes. Students need to grasp the guiding principles of engineering and learn to examine biological mechanisms and facts from an engineers' perspective, which they gain through internships. By following the postgraduate course assigned to each student in their fourth year, our students are able to reinforce their knowledge and take part in research, where they will be able to find solutions to current problems.
Education Opportunities
The Bioengineering Undergraduate Program aims to develop new technologies by benefiting from biological systems and processes. Throughout the four years of study, an association is created between major and applied sciences, by students taking major science courses such as physics, chemistry, biology, mathematics, materials science and major engineering courses such as thermodynamics, heat and mass transfer, fluid mechanics, genetics, molecular biology, metabolism, cell physiology and biochemistry, bioprocess engineering, neurobiology, and immunology.
Most of the courses which form the four-year-curriculum have both tutorial hours and laboratory practices. At the end of the second and third years of education, students have mandatory summer training, getting the chance to put theoretical knowledge into practice.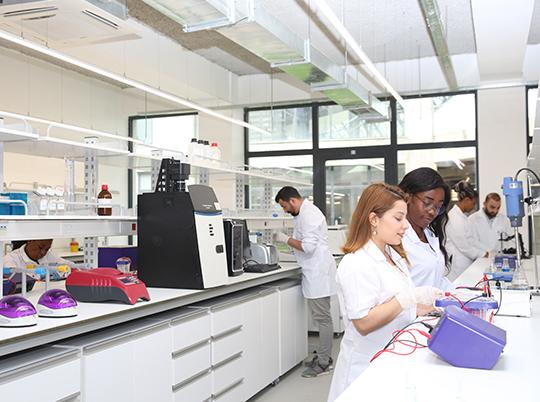 Career Areas
Some of the careers available to the graduates of the program Bioengineering include genetic analysis, cytological biological toxicity tests, biological production processes, suitable reactor and separation/purification equipment selection and design, development and production of biological material testing, and production of diagnostic kits. People who complete the Bioengineering Undergraduate Program will be able to enjoy job opportunities in a wide range of industrial sectors including the pharmaceutical sector and the environment sector, in hospitals and clinics, and institutions with legal obligations, such as Hifsi Sihha and the TSE. Careers are also possible in the areas of genetic diagnosis and treatment centers, vaccine production facilities, military institutions, research and development departments of different food product and beverage companies, as well as factories producing energy sources, drugs, biochemical materials like enzymes and biopolymers for the production of biologically compatible products. The significance of bioengineers has been increasing recently, allowing us to talk about countries' bio-economies as well.
Compulsory modules
First Semester
INTRODUCTION TO BIOENGNEERING
The objective of this course is to inform students on the field of bioengineering, role of microbial metabolism, enzymes and bioreactors in bioprocesses and the socio-econemical impacts of bioengineering.Introduction to the concept of Bioengineering and its branches. Overview of topics and engineering application areas that comprise the Bioengineering profession. Fundamentals of Biochemical and Bioprocess Engineering. Impact of Bioengineering and biotechnology on society. Elements of Bioengineering education. Description of the scientific basis of Bioengineering with particular emphasis on definitions and concepts in Biochemical, Bioprocess and Metabolic Engineering. Description of the research conducted by faculty in the department. Information about Biotechnology Research Center laboratory given to students
GENERAL CHEMISTRY
In this course, Engineering and Pharmacy Faculty students will learn types of matter, measurements, properties of substances; atoms and atomic theory, components of the atom, introduction to the periodic table, molecules and ions, formulas of ionic compounds, names of ionic compounds; atomic masses, the mole, mass relations in chemical formulas, mass relations in reactions; measurements on gases, the ideal gas law, gas law calculations, psychometric of gaseous reactions, gas mixtures: Partial pressures and atomic spectra, the hydrogen atom, quantum numbers, atomic orbitals; shape and sizes; electron configurations in atoms, orbital diagrams of atoms; polarity of molecules; principles of heat flow, measurements of heat flow, calorimetry, enthalpy, thermochemical equations, enthalpies of formation, the first law of thermodynamics, liquids and solids.
INTRODUCTION TO COMPUTING
This course presents the basics of computer systems. The course is structured in two parts; including a short history of computers, the first part of this course presents the history, basic concepts and terminology of information technology, basic hardware and software components of a computer system, and integration of computer system components. Besides the terminologies and abbreviations, the students learn about the hardware setup of a personal computer and the relations between the processor, memory and secondary devices. The laboratory part includes basic computer usage and office programs (MS Word, Excel). In the second part, basics of problem solving approaches, components and construction of computer programs, flow-charting, and modular programming issues are discussed. Basics of C programming language are covered in classroom.
READING AND WRITING SKILLS-I
This course aims to develop students' listening, speaking, reading - writing and study skills. The course provides students with the opportunity to develop their communication skills through controlled activities and to equip students with the basic study skills necessary to follow the curriculum of English. This course also provides students with the opportunity to process the newly acquired knowledge and to develop their ability to ask questions about how to apply the new knowledge to new situations and ask them to think critically. In addition, this course will enable students to learn about the different strategies required to review the various reading pieces, such as finding the main idea and distinguishing the details from the main idea.
HISTORY OF CIVILIZATION
The aim of this course is to outline the development of civilizations in the course of history. It firstly focuses on the concepts such as "Civilization", "Prehistoric", and "Historic" and on the factors forcing the emergence of the first civilizations. As well as examining the prehistoric periods and their characteristics in the course of human life since the first appearance of human beings on earth, the course mainly focuses on the early civilizations, namely the Mesopotamian, Egyptian, Aegean, Classical Greek, Hellenistic, Indian, Chinese and Roman Civilizations. Political, social, economical, cultural, intellectual, philosophical and scientific aspects in these entities are also examined in this course.
CALCULUS-I
Calculus-I provides the methods of differential and integral calculus with applications in geometry, physics and engineering. Students in this course will learn how to use mathematical language needed for applying the concepts of calculus to numerous applications in science and engineering such as identifying types of functions, graph of functions, evaluating limit of functions, limit of elementary functions (polynomial, trigonometric, logarithmic, exponential,…), methods to solve the undefined limits (L'Hopitals Rule), continuous functions, evaluate derivative of functions, definition of derivative, derivative of elementary functions, derivative of product of two functions and division of functions, applications of derivative, evaluate integrals of functions, definition of the integral, integral of elementary functions, substitution method, integration by parts, integral of rational functions, application of the integral (finding the area) .
LINEAR ALGEBRA
The aim of this course is to introduce the basic operations in linear algebra and applications in engineering problems; matrices, matrix properties and matrix operations: Addition, scalar multiplication, multiplication, transpose, solution of system of linear equations: Elimination method, Gauss Jordan forms, inverse method to solve linear systems, row reduced echelon forms, Gaussian elimination method, inverse and determinants: solving linear equations with determinant (Cramer's rule), use one row to evaluate determinant, minor, cofactor, adjoint matrix, identity matrix, square matrix of the matrices. Real vector spaces, vectors and their properties and applications in engineering: Addition, subtractions, dot product, scalar multiplication, cross product, basis, dimensions and subspaces.
MODERN TURKISH HISTORY
In this course, Ottoman state and society, factors causing the collapse of the state; Ottoman modernization; Tripoli and Balkan Wars, World War I, Mudros Armistice and Sevres Agreement; parties and associations, the national resistance movement led by Mustafa Kemal, the Havza and Amasya Circulars, the Congresses, the National Pact, the Turkish Grand National Assembly; the rebellions, the regular army and the War of Independence; the Mudanya Armistice, the Lausanne Peace Treaty; Revolution in the political field, secularization of the state and society, abolition of the sultanate, declaration of the republic, abolition of the caliphate; 1921 and 1924 constitutions, constitutional changes; Sheikh Said Rebellion; Multi-party experience, secularization and modernization in law, nationalization and secularization in education, Kemalizm and 6 principles, Turkish foreign policy(1923-1938) are covered.
Second Semester
GENERAL BIOLOGY FOR ENGINEERS
The aim of the course is to make students aware of basic biological concepts and to illustrate by basic principles of life. The atomic basis of life and biomolecules; cell structure and function; cell theory, endomembrane system, differences between prokaryotic and eukaryotic cells. cell metabolism; enzymatic reactions, metabolic pathways, feedback inhibition mechanism, structure and characteristics of biological membranes, principles of osmosis and diffusion, movement of materials across membranes; photosynthesis, fermentation and respiration; cell division; Mendelian genetics; molecular basis of genetics; control of gene expression; recombinant DNA technology; mechanisms endosymbiosis theorem and evidence of evolution; the origin and history of life.
ORGANIC CHEMISTRY
This course is designed for faculty of engineering and pharmacy students. At the end of the course, the learner is expected to be able to name organic compounds, predict basic structure-reactivity relationships, design simple syntheses of basic classes of organic compounds, describe some organic reaction mechanisms and have some insight to the principles of stereochemistry. The objective of the course is to introduce basic reaction types, reaction mechanisms of functional groups, of organic compounds like alkanes, alkenes, alkynes, benzene and aromatic hydrocarbons, alkyl halides, alcohols, ethers, epoxides, thiols, the carbonyl groups, aldehydes, and ketones, carboxylic acids and their derivatives, amines.
READING AND WRITING SKILLS-II
This course is the continuation of ENG 101. The course aims to improve students' listening, speaking, reading, writing and working skills. In the course, students are guided in writing compare and contrast essays using Venn diagram. In addition, the aim of the course is to learn the necessary conjunctions for composition writing. In addition, the students will be able to write a four-part critical composition by learning the difference between ideas and factual real sentences and how to write the opposing opinion and sentences used to refute it. Thus, the students will be able to distinguish between the compare and contrast essay and discursive essay. Students will also be able to make presentations by using presentation techniques. In addition, this course aims to summarize the reading pieces of the students and to use the strategies of reading and to draw conclusions and meanings using their reading skills.
CALCULUS-II
This course provides the methods of differential and integral calculus with applications in geometry, physics and engineering. Topics included are as follows: Sequences and infinite series, properties of sequences, test for convergence, tests for series with both positive and non-positive series, absolutely convergence and conditionally convergence . Power series, Taylor and Maclaurin series, the radius of convergence. Parametric equations and Polar coordinates, the graph of polar equations, the area in polar coordinates, arc length, speed on a curve and derivative of polar equations. Vectors and vector-valued functions, dot product and cross product of two vectors. Lines and Planes. Functions of several variables, their domain, limit and partial derivatives and definite integral of a function over a region.
GENERAL PHYSICS-I
The aim of the course is to provide the basic information in order to help the students to understand the possible complicated problems in engineering. In this regard, the basic principles and methods of solving the problems in physics are thought. The course provides a basic grounding in elementary physics including mechanics. The basic subjects of the course are: Units and dimensions, Uniformly accelerated motion in one dimension, Freefall, Vector mathematics, Two dimensional motion, Newton's laws of motion, Applications of Newton's laws, Free body diagrams, Circular motion, Work and energy, Conservation of energy, Momentum, impulse, and collisions, Rotational kinematics, Torque, Static equilibrium. For completeness, the students are supposed to do 6 experiments related to the subjects of the course.
BIOSTATISTICS
The main topics of this course are basic statistical definitions, definitions of population and sample, types of data, descriptive statistics, and classification of data. Then, discussing the measures of central tendency such as calculating mean, median and determining mode; and measures of dispersion such as calculating range, variance and standard deviation. In addition to these, students are able to work on frequency tables, data visualization by graphics, probability distributions, some well-known discrete and continuous probability distributions such as normal, binomial and Poisson distributions. Finally, statistical tests for checking normality, the main idea of sampling, sampling distributions and sampling distribution of mean and confidence intervals will be covered in this course.
TURKISH LANGUAGE
This course examines basic areas of language and expression. In the first half of the course, the theoretical approach to language is formed and the spelling rules of the Turkish language are studied. In the latter part of the course, language and narrative errors are studied together with editing. In the second half of the course, formal writing, curriculum vitae, petition, evaluation of the columns in terms of language and style, types of written expression and practice; Turkish production and application of shooting attachments; Turkish grammar structure; It is aimed to teaching subjects like phonetics of Turkish to students.
TURKISH
This course provides an orientation to modern Turkish language for foreign students who wish to communicate in this language for their needs. It mainly focuses on the differences between Turkish and English Alphabets, especially the sounds and the letters which are not included in the English alphabet (i.e. Turkish letters ç-ğ-i-ö-ş-ü). In addition, basic grammar and sentence structure forms in Turkish are practised. The required grammar and vocabulary will also be developed through their adaptation to daily situations in contexts such as introducing yourselves, greeting, talking about the things they possess by using possessive adjectives, forming positive, negative and question sentences by using present simple, telling the time, talking about their own timetables, using demonstrative pronouns when describing the place of objects and becoming familiar with vocabulary related to family members.
Third Semester
MOLECULAR BIOLOGY AND GENETICS
The main objectives of the course are to introduce the main concepts of molecular biology and genetics, in addition , to provide real hand on experiences in research techniques. This course will emphasize cell biology, universal futures of cells, laboratory guidelines and laboratory safety, internal organization of cell, cellular transport mechanism, chemical organisation of living organisms from atoms to molecular structures, basic cellular reactions, importance and role of ionic composition of living organisms and the molecular mechanisms of DNA replication, repair, transcription, protein synthesis, and gene regulation. During this course up to date methods in molecular biology and genetics, and scientific methodology will be covered.
BIOCHEMISTRY
The objective of this course is to develop a fundamental understanding of the structures, functions, and interactions of proteins, carbohydrates, lipids, and nucleic acids. The way these molecules mediate biochemical processes in living systems are also studied. In addition, topics also include organic functional groups, the biological role of water, acid-base chemistry and buffers, enzymes and enzyme kinetics, bioenergetics, biological catalysis and biological membranes and cellular transport. The topic also includes the broad understanding of chemical events in living systems in terms of metabolism and structure-function relationships of biologically important molecules. It covers information about catabolic and anabolic pathways of metabolism involving carbohydrates, lipids, amino acids, nitrogenous bases and transfers in biological systems.
DIFFERENTIAL EQUATIONS
In this course, the ordinary differential equations and their applications will be considered. The course will demonstrate the usefulness of ordinary differential equations for modelling physical and engineering problems. Complementary mathematical approaches for their solution will be presented, including analytical methods. The basic content of the course includes first order ordinary differential equations and their types of exact, separable, Bernoulli, first order, homogeneous ordinary differential equations, linear independence of the solutions, higher order ordinary differential equations and their solutions. The undetermined coefficient methods, the variation of the parameter method, Cauchy-Euler equations. The definition of the Laplace transform and some important applications of the Laplace transform will be included in this lecture.
MICROBIOLOGY
Introduction to the basic concepts of microbial physiology, ecology, genetics, and pathogenesis.
GENERAL PHYSICS-II
This course provides the basic information to help the students to understand the possible complicated problems in engineering. The subjects of the course are mostly Electricity and Magnetism. The basic subjects of the course are Properties of electric charges, Coulomb's law, and Electric field of a continuous charge distribution, Gauss's law and electric flux. Application of Gauss's law to charged insulators, Obtaining the value of the electric field from the electric potential, Electric potential and the potential energy due to point charges, Electric potential due to continuous charge distributions, Electric current, Resistance and Ohm's law, Electromotive force, Resistors in series and in parallel. Kirchhoff's rules. For completeness, the students are supposed to do 6 experiments all are related to the subjects of the course.
Fourth Semester
ANATOMY -PHYSIOLOGY-I
In Anatomy and Physiology I lecture, students will be introduced to a comparison between anatomy and physiology; functional organization of human body; terminology used in these two sciences and an insight into the important concept in physiology called homeostasis. This is followed by the cellular and chemical organization of an organism. Histology of different types of tissues; epithelial, connective, bone and muscle tissues are also studied, with histological methods and microscopy used to investigate tissues. In addition to these introductive topics, students are informed on anatomy and physiology of organ systems, namely musculoskeletal system; nervous system; and cardiovascular system. The course will also provide information on the physiology of blood; coagulation disorders and anaemia, Pathology of diseases relative to organ systems studied will be discussed.
MATERIALS SCIENCE
The main purpose of this course is to study the relationship between the structures and properties of materials. Review of interatomic and intermolecular forces and bonds, crystal structure, crystallographic directions and planes, amorphous structure, x-ray diffraction techniques, microscopic techniques, and various types of structural imperfections are discussed. Concepts of force, stress, deformation and strain. Mechanical properties of materials: Elasticity, plasticity, viscosity, introduction to the logical concepts. Properties related to strength: Stress-strain curves, true stress and true strain, ductility, brittleness, toughness, resilience and hardness are studied. The last part of the course includes discussions on the fracture mechanism, fatigue and creep.
CIRCUIT THEORY I
The course provides students with fundamental Concepts of Circuit Theory: Current, Voltage, Power and Energy as well as Definitions of Circuit Componentes: Voltage Current Sources; Resistors and Ohm's Law. Computation of Power over a Resistor, Set Up Circuit Model. Kirchhoff's Current and Voltage Laws. Resistors in Series and Parallel Configuration; Voltage and Current-Divider Circuits. Ampermeter, Voltmeter and Ohmmeter Circuits. Wheatstone Bridge, Triangle-Star Transformation. Loop Currents and Node Voltages Techniques, Source Transformation. Linearity and superposition principles, source transformations. Thevenin's and Norton's Theorems, Maximum Power Transfer, Graf Theory. Inductance and capacitance. The natural and forced response of the first – order (RL and RC) circuits. Natural and step responses of second-order RLC circuits.
ENGINEERING ECONOMY
The purpose of this course is to provide an introductory basis for economic analysis in decision making process in engineering design, manufacturing equipment and industrial projects. This course aims to supplement engineering students with the knowledge and capability to perform financial analysis especially in the area of capital investment. It emphasizes the systematic evaluation of the costs and benefits associated with proposed technical projects. The student will be exposed to the concepts of the "time value of money" and the methods of discounted cash flow. Students are prepared to make decisions regarding money as capital within a technological or engineering environment. Assignments and homework help and guide the students to apply the knowledge acquired during the course.
IMMUNOLOGY
In this course, the students are introduced to the topics of immunology, antigen and antibody recognition and selection, cellular and humoral immunity, hypersensitivity reactions. Vaccines, vaccine generation, importance and action mechanisms of vaccines are covered as well as transplantation of tissues and organs, methods and possible complications. Antibody development and antibody engineering, immune cell structure/function/sorting and molecular basics and techniques of immunology are covered. The structure of antibodies, T-cell and B-cell receptors, MHC, and their functions are included among topics. V(D)J recombination, its mechanisms and enzymes are discussed as well as the details of somatic hypermutation. Positive and negative selection of immune cells, potential complications and autoimmune diseases that can arise from immune system dysfunction are discussed.
Fifth Semester
SUMMER TRAINING I
The summer training aims to offer students the opportunity to apply their knowledge in real-life environments through an industry placement for 20 working days. It is expected that the skills students will gain from working with an organization will help them perform better in their jobs after graduation. In addition, the summer training greatly increases the chances for students to obtain full-time employment after graduation. At the end of summer practice, each student is required to prepare a technical report and submit to the department. During summer practice students can work in hospitals, industrial facilities producing biological products, engineering design companies, biochemistry, genetics or microbiology laboratories, etc.
BIOMEDICAL ENGINEERING AND INSTRUMENTATION
The objective is to develop a fundamental understanding of the principles of biomedical measurement systems used in the fields of molecular biology and biotechnology, cell engineering, tissue engineering, and biomaterials used in medicine. Applications, diagnosis and treatment, biomedical instrumentation administration, security issues, biomedical technology and the biomedical engineer, their present and future. This course covers physiological signals, biomedical sensors, analogue signal amplification and filters, digital acquisition, digital filtering and processing, and an overview of several common medical instrumentation platforms. Digital processing of biological signals, physiology of the heart and electrocardiogram (ECG), blood pressure measurements, physiology of the brain and electroencephalogram (EEG), Electromyography, Electromechanics of biological fluids.
BIOINFORMATICS
This course will introduce students to bioinformatics concepts, principles, and techniques. They will learn how to access the data archives of genomes and proteins, the tools that have been developed to work with these archives, and the kinds of questions that these data and tools can answer will be covered. During this course human genome project, role of bioinformatics in medicine, spatial and temporal aspects of life, central and peripheral dogma, data archives, the world wide web, electronic publications, computer and computer science, programming, biological classification and nomenclature, tools to evaluate phylogenetic relationships, protein structure, protein structure prediction and determination, clinical implications and 3D protein structure visualisation tools will be covered.
FLUID MECHANICS
The aim of this course is to provide to the students basic fluid mechanics and fluid properties knowledge by using the basic principles of math and physics. Therefore, the students may use those in engineering applications. In the first chapter of the course, the basic engineering properties of the fluids especially the viscosity and the surface tension is provided and the example problems related to these properties are to be solved. In the second chapter, the hydrostatic pressure and the hydrostatic pressure force on a plane and curved surfaces are conducted. In the third and the fourth chapters, the applications of basic motion laws on fluid mechanics, conservation of mass, momentum and energy laws are conducted. In the last chapter of the course, dimensional analysis, dimensionless numbers and modelling topics are conducted. This course is to be planned as the fundamental course for the students for their engineering application courses that they will take afterwards.
THERMODYNAMICS
This course starts with basic concepts and their definitions and moves on to solving examples relating to power, heat and energy. Thermodynamic related properties of pure substances, Equation of state, work and heat, Zeroth law of thermodynamics, First Law of thermodynamics, Ideal and real gases, Internal energy and enthalpy, Second law of thermodynamics, Entropy are introduced. Application of thermodynamic principles starts with the Carnot cycle, steam power cycles, gas power cycles, Otto and Diesel power cycles and ends with refrigeration cycles. Use of thermodynamic properties in designing systems, the effect of parameters is covered. The course also includes practical work in the laboratories and simple design projects based on the use of thermodynamic properties.
Sixth Semester
INTEGRATED DOWNSTREAM PROCESSING
The objective is to develop a fundamental understanding of separation techniques in biotechnology. During the course students will develop the skills in the area of downstream processing. Problems will relate to design, estimating operating conditions and optimisation of the process. Provide the basic understanding of the purification processes. The course covers the fundamentals, and design concepts of various downstream purification steps such as extraction processes, precipitation, ion exchange, distillation and chromatographic techniques (unit operations) involved in a biochemical process. Hence it may involve solids, liquid and gas processing. By the end of the course, the students will learn about various methods of separation and purification of bioproducts.
BIOPROCESS ENGINEERING
The objective of the course is to give the students the main aspects of the Biological Reaction Engineering field and applications. Basic properties of the biotechnological process, their applications in various sectors, comparison of biotechnological process and chemical process. Bioconversions and bioprocess kinetics. Material denklikleri, Operation modes, batch, fed-batch, continuous and semi-continuous process. The usage of plant and animal cells as biocatalysts. Immobilized enzymes and cells. Transport phenomena in Bioprocess systems. Material balances, and operation variables acting on mass transfer. Aeration and mixing of bioreactors. Design variables acting on mass transfer. Heat transfer and sterilisation in bioreactors. Theory, applications and laboratory practicals of aerobic and anaerobic bioprocesses.
HEAT AND MASS TRANSFER
This course aims to introduce the Steady and transient heat conduction through solids in one or more dimensions, and numerical simulations of conduction; analysis of forced convection in laminar and turbulent flows, including both boundary layers and internal configurations; natural convection in internal and external configurations; heat transfer during phase change processes; mass transfer and evaporation; and thermal radiation, including spectral properties, gray-body networks and solar radiation. Problems and examples will emphasize analysis and modelling of complex systems drawn from manufacturing, electronics, aerospace, and energy systems.
Seventh Semester
SUMMER TRAINING II
The summer training aims to offer students the opportunity to apply their knowledge in real-life environments through an industry placement for 20 working days. It is expected that the skills students will gain from working with an organization will help them perform better in their jobs after graduation. In addition, the summer training greatly increases the chances for students to obtain full-time employment after graduation. At the end of summer practice, each student is required to prepare a technical report and submit to the department. During summer practice students can work in hospitals, industrial facilities producing biological products, engineering design companies, biochemistry, genetics or microbiology laboratories, etc.
BIOPROCESS DESIGN I
The objective of the course is to provide students information on how to formulate the required actions for the analysis, design and optimization of biological processes. Types of organisms, cells and components of cells used for the manufacture bio-products are discussed as preparation step in bioprocess design I. Mass balance, chemical kinetics and reactor design topics are then involved in order to investigate the rate of accumulation, rate of input, rate of output and the rate of generation of masses involved in bioprocesses. Chemical kinetics is explained during this course based on two different processes: Kinetics of enzyme-catalyzed reactions and the kinetics of biological growth. Three basic types of reactors take place during the discussion of reaction vessels. These are Batch, Continuously Stirred Tank Reactor and Plug Flow Reactor. In addition, the conversion factor is discussed during the design equations.
GENETIC ENGINEERING
The main focus of the course is on the fundamental principles and techniques used in gene manipulation. The course provides an introduction to the fundamentals of molecular biology, the methods used to manipulate genes, and applications of the technology. During this course basic features of genetic engineering, emergence and historical development of gene manipulation technology, genomic organisation, gene expression and regulation, techniques for isolation, handling, and processing of nucleic acids, principles of nucleic acid hybridisation, gel electrophoresis techniques, and DNA sequencing, enzymes used in gene manipulation, features of plasmid and bacteriophage vectors and DNA sequence cloning strategies will be covered.
BIOMATERIALS AND DRUG DELIVERY
The objective is to develop a fundamental understanding of the definitions, classifications, properties and benefits of biomaterials. This course focuses on the fundamental understanding of implantable materials with respect to their design, analysis and use in human health. This course also includes evaluation of biomedical use, applications and biocompatibilities of biomaterials and provides the basic understanding of the controlled drug delivery systems and introduction to drug targeting. The course also includes the fundamentals of materials synthesis/fabrication, methods of characterisation/analysis, interactions between materials with tissues, quantitative analysis of material properties and how materials are used to impact human health. Also, It covers the application of engineering principles for designing and understanding the delivery of therapeutics.
PROJECT MANAGEMENT
This course is designed to focus on project management framework, project integration management, project scope management, project communication management and teamwork, health & safety, engineering ethics, environmental management, risk management and sustainability, entrepreneurship and feasibility report, legal aspects in project management. This course also prepares the senior students to select their capstone design projects and form teams. The students undertake literature review for their projects, prepare feasibility report, and a written/oral presentation at the end of the term.
Eighth Semester
BIOPROCESS DESIGN II
The objective of the course is to learn basic concepts of energy balance, heat transfer, viscosity, mixing and mass transfer. Mainly the energy balance design equations are accomplished by considering the following input and output parameters: Energy associated with and without bio-reaction, energy associated in the presence and absence of oxygen in the system, shaft work, water vapor loses, steady-state and unsteady-state conditions. Discussions continue with the viscosity determination of the fluids in order to select the proper mixing equipment. Mass transfer discussions involve the transport of substrates (liquid) or gases (gas) by the cells or components of the cells (solids) and develop a design equations for this transport phenomena.. Bio-reactor instrumentation and control equipments and scaling up difficulties are also discussed during this course.
TISSUE ENGINEERING
The objective is to develop an overview of cell biology fundamentals, an extensive review on extracellular matrix and basics of receptors, followed by topics on cell-cell and cell-matrix interactions at both the theoretical and experimental levels. Subsequent lectures will cover the effects of physical (shear, stress, strain) and chemical (cytokins, growth factors) stimuli on cell function, emphasizing topics signal transduction processes. Tissue engineering will be introduced by reviewing tissue structure and function and the clinical need for tissue repair. An overview of scaffold design and processing for tissue engineering will be reviewed and the application of tissue engineering to specialized tissues and organs will then be addressed in depth.
CAPSTONE PROJECT
This course is an interdisciplinary project based course involving engineering design, cost estimating, environmental impacts, project schedule and team work. Students are expected to work in pre-assigned team under the supervision of faculty on a predetermined project. Each team will submit a final report including drawing, specification, and cost estimate that completely describe their proposed design. Each team will make oral presentation defending their final design and project feasibility to peers and faculty members.
Optional modules
SPECIAL TOPICS IN BIOENGINEERING
INDUSTRIAL MICROBIOLOGY
The aim of this course is to make students aware of industrial applications of microbiology. This course covers the commercial exploitation of microorganisms for processes and products that are of major economic, environmental and social importance for the world. Two aspects of industrial microbiology will be covered: one related to the production of valuable microbial products via fermentation processes, and the second related to the role of microorganisms in providing services, particularly for waste treatment and pollution control. In adition, growth and product formation in industrial processes, energy release and conversions, information about industrial biotechnology including genetic manupulations, islation, screening and strain improvement is given. Information about bioreactors, stoiciommetry of bioprocesses and basics of thermodynamics and bioenergetics is given.
MODERN TECHNICS IN BIOCHEMICAL ENGINEERING
INDUSTRIAL AND ENVIRONMENTAL BIOTECHNOLOGY
OCCUPATIONAL HEALTH & SAFETY
The course includes, work safety and worker safety concepts; work accidents and types; occuppational diseases and protecting from such diseases; ergonomy; electrical and non-electrical tools used in working mediums; personal protective equipment; first aid; fire, explosives and natural disasters; duties of workers, authorities and government departments. Also, this course is designed to introduce the engineering student with the basic principles of occupational safety and health management in industry. Development of safety and health function, hazard problems, concepts of hazard avoidance, impact of regulations, toxic substances, environmental control, noise, explosive materials, fire protection, personal protection and first aid will be introduced.
PROGRAMMING IN MATLAB FOR ENGINEERING
ENGINEERING MANAGEMENT
Review the enginnering management functions of planning, organizing, leading and controlling. Also, techniques of management, the matrix system of management, motivation, appraisal systems and prepare engineering students to become effective leaders in meeting the challenges in the new millenium. The course tries to give information in technical (an understanding of and proficiency in engineering and science); human (the ability to build a collaborative effort within a group); conceptual (the ability to apply analytical thought to the management process and to enterprise as a total system). Throughout the Engineering Management course, emphasis is placed on team-based approaches, written and oral communications skills, management of technology and continuous improvement.
SOIL AND GRD.WATER POLLUTION
Overview of issues in contemporary environmental management and sustainability, both in general and in the local context. Environmental management and resource management are distinguished, as are management and governance. The course provides a broad view of relevant concepts and frameworks (for example, sustainability, the precautionary approach, systems thinking), trying these to the development of thinking about environmental governance and management. Water cycle, soil characterstics, sources of soil and groundwater contaminants, types of pollutants are mainly discussed during this course. Mass transport mechanism in vadose and saturated zones including diffusion, advection, adsorption and degradation are involed in dicussions. The remediation technologies for soil and groundwater presentations are also made to introduce students available technolgoies to overcome soil and groundwater pollution by treatment
ENVIRONMENTAL IMPACT ASSESSMENT
The objective of this course is provide knowledge on environmental impacts and environmental impact assessment. The course content includes history and basics of environmental impact assessment; framework and legal considerations for impact assessment; predictions of impacts on air, soil and water quality, noise level, and the biological environment; methods of impact analysis; public participation in the environmental impact assessment process; environmental impact assessment reports. Examples of previously used environmental impact assessment reports of various engineering projects are studied as cases studies in the lectures. The course uses lecture notes and discussions for the theoretical information and a term project practicing on how to conduct an environmental impact assessment on an imaginary project learning to use the theory in practice.
ENVIRONMENTAL MANAGEMENT
This course is an introduction to the interaction among social, political, cultural, ecological and economic factors in the field of environmental management and is centrally concerned with understanding deliberate efforts to translate environmental knowledge into action in order to achieve particular outcomes in the way landscapes, societies and/or natural ecosystems are used and managed. The course will provide a critical survey of the contemporary field of environmental policy, planning and management. It will also consider how the objectives for land and resource use are shaped, fashioned and contested in democratic and non-democratic settings. Student's will be tought dynamics and processes that impact ecological systems and they will understand the basic components of a sustainable development framework, study concepts of sustainable development theory and practice.
MANAGEMENT INFORMATION SYSTEMS
This course is for students who wanted an in-depth look at how today's business firms use information technologies and systems to achieve corporate objectives. Information systems are one of the major tools available to business managers for achieving operational excellence, developing new products and services, improving decision making, and achieving competitive advantage. Students will find here the most up-to-date and comprehensive overview of information systems used by business firms today. When interviewing potential employees, business firms often look for new hires who know how to use information systems and technologies for achieving bottom-line business results. Regardless of whether you are in finance, management, marketing or information systems major, the knowledge and information students will find in this course will be valuable throughout their career.
PRINCIPLES OF MEDICAL IMAGING
The underlying physics, image formation theories and selected applications of each modality will be presented. Basic imaging principles, image formation, image quality, ionizing radiation, interaction of radiation with matter, modalities in radiographic imaging. Physics and modalities in nuclear medicine imaging, ultrasound imaging, magnetic resonance imaging. Data acquisition techniques and hardware considerations. New imaging modalities and application areas. Knowledge and skills on the following aspects of medical imaging will be given to the students: Image reconstruction with non-diffracting sources in two dimensions, image reconstruction with non-diffracting sources in three dimensions, algebraic reconstruction algorithms. Magnetic Resonance Imaging (MRI) techniques, flow imaging and flow related MRI. Ultrasonic computed tomography, tomographic imaging with diffracting sources, ultrasonic reflection tomography. Nuclear sourse tomographic imaging. New imaging modalities.
COMPUTER AIDED DATA ANALYSIS
COMPUTER AIDED DESIGN
This course aims to study the Integration of computers into the design cycle. Interactive computer modelling and analysis. Geometrical modelling with wire frame, surface, and solid models. Finite element modelling and analysis. Curves and surfaces and CAD/CAM data exchange. The integration of CAD, CAE and CAM systems.
SPECIAL TOPICS IN ENVIRONMENTAL ENGINEERING I
This course provides various advanced level topics will be covered on environmental engineering, according to the need of students and interest of the instructor. Air pollution sources; dry and wet deposition processes; gaseous and particulate pollutant sampling and analysis methods; effect of meteorology on air pollution; air quality standards and legislation can be one of the topic. Emerging Pollutants, which is one of the new topics for Environmental Engineering field. their occurrence and fate in treatment plants and in the environment, their ecotoxicological effects to aquatic and terrestrial organisms and approaches for their environmental risk assessment can be chosenas a topic. Environmental biotechnology can be one of the special topic to discuss biological processes to create wide variety of products.
PROBABILITY & COMPUTER APPLICATIONS IN INDUSTRIAL ENGINEERING
The course is designed to give useful feedback from probability knowledge and to give brief information of computer software applications for Industrial Engineering courses. Introduction to model formulation and numerical solution methods in industrial engineering. Emphasis on decisions, constraints, and objectives in problem solving. Introductory knowladge on project management and developing a project a plan by use of Work Brake Down Structure and Network analysis. Understanding the statistical nature of engineering processes. Emphasis on proper data collection and classification, characteristics of variables and their distributions, joint probability distributions, and establishing hypotheses and statistical significance over engineering design specifications.
EASTERN MEDITERRANEAN ENERGY GEOPOLITICS
Turkey is a significant energy consumer and a significant energy importing country. Energy import dependency is around 75 percent while the country has very significant indigenous but idle energy resources. Energy intensity is high and still rising offering a remarkable potential for improvement. To understand the basic characteristics, problems of Turkey's current energy policy as well as the enormous indigenous resource potential for improvement will motivate the students to propose a more independent, sustainable and affordable energy policy. Turkey is in the center of the Eastern Mediterranean energy policy developments together with Cyprus island. Such integrated characteristic will enable the student to have a wholistic approach to solving the current dilemma around the region. However before proposing a solution, they should be better informed about the basics of the energy game and the specifics of the region.
WORLD ENERGY POLITICS
Supplying energy in an uninterrupted, sustainable and affordable way is one of the most vital area that every nation should justify for it's current and future demand. Therefore we need to increase the awareness of our young generation on this critical area. The course will focus on: •Energy resources, •Fossil fuels; their worldwide geographical distribution, why it matters •Energy Technologies, •World Energy Outlooks, •Energy prices and markets, •Major actors of the energy scene, •Main principles of a sustainable energy policy, •Energy policies and strategies of principal actors (U.S., Russian Federation, E.U., China, Turkey), •Eastern Mediterranean energy geopolitics •The concept of "energy security". Definition, main parameters. •Electricity security
TRNC citizens and TR citizen candidate students who have completed their entire high school education in TRNC. They are placed in undergraduate programs in line with their success in the CIU Student Placement and Scholarship Ranking Exam and the programs they prefer.
Students who are successful in the exam can register from the TRNC Marketing Office.
Applicants can directly apply online to our undergraduate programs using the application portal. Please fill in your details correctly and upload all the required documents listed on the last page of the application form.
Required documents;
Completed application form,
Higher/Secondary Certificate or equivalents (e.g. O/A'Level, WAEC/NECO),
Evidence of English Language competence: TOEFL (65 IBT) or IELTS (5.5). Students without these documents will take the CIU English proficiency exam on campus following arrival,
Scanned copy of international passport/birth certificate,
Fully completed and signed CIU Rules and Regulations document (which can be downloaded during the online application).
Cyprus International University provides academic scholarships for its students as an incentive for success, with most students benefiting from 50%, 75% or 100% scholarships or discounted tuition fees. Click for more information.
| | | |
| --- | --- | --- |
|   | Non-Scholarship | 50% Scholarship |
| Undergraduate Programs | € 5.843,00 | € 3.099,00 |
Click for more to learn about fees in line with the Tuition Fee Calculation system.