About the Department
Department of Molecular Biology and Genetics, which was established in 2017, is an interdisciplinary field that is constantly developing. It investigates the interactions of the basic properties, structures and functions of molecules that make up life, their role in development, physiological and pathological phenomena. The Department of Molecular Biology and Genetics (English) teaches the fields of Bioengineering, Chemical Biology Engineering, Systems Engineering, Software Engineering and Computer Engineering, with the vision of combining theory and practice. The department aims to train the most suitable candidates in academic positions and other job opportunities with its multidisciplinary education system. Molecular Biology coincides with the genetic science of inheritance and diversity between organisms. Molecular Biology and Genetics, therefore, tries to explain the issues that form the basis of life by approaching biological processes in terms of molecular structure and functions at the level of structure and function of biological molecules. Research in different disciplines such as cancer, genetic and metabolic diseases, microbial genetics and biotechnology, plant biotechnology are conducted with the support of international institutions. Department of MBG, which provides a modern infrastructure for the researchers in our laboratory on related topics, plans to develop interdisciplinary studies with the Departments of Physics and Chemistry parallel to the evolution of molecular biology and technology. In order to educate scientists in accordance with this change, the Department of MBG started to prepare double-major or triple-major undergraduate programs especially in Physics and Chemistry.
Education Opportunities
In the department, there is qualified academic staff providing English-medium instruction. The current monitoring of global academic development and transformations based on the universality of scientific language is much emphasized. The high-level laboratory facilities of Cyprus International University have given the education processes in this department a contemporary and high-level identity. In addition to the academics and laboratory facilities in the fields of Physics and Chemistry, the presence of the Faculties of Medicine and Dentistry also carries the education processes of this department to higher levels. In the program, there are courses on biology, bioinformatics, genetics, genomics, population genetics, cell biology, biochemistry and stem cell research that will direct students to different fields. In addition to the comprehensive general courses in the core program of Cyprus International University, students in this department take general biology, biochemistry, organic chemistry, molecular biology, cell biology, genetics, developmental biology, biotechnology, bioinformatics and laboratory courses. Students are expected to participate in research under the supervision of a faculty member and to increase their knowledge and skills through research projects in their final year.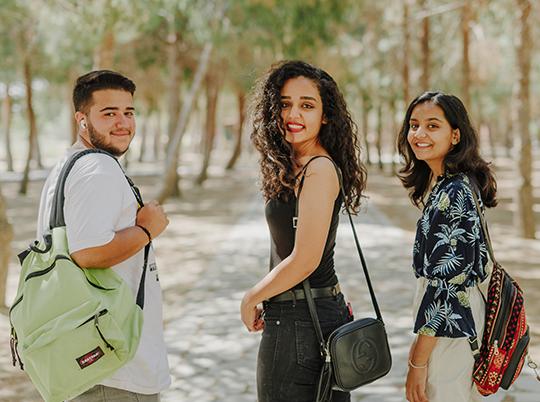 Career Areas
Graduates will be the backbone of many companies in the developing biotechnology sector. Stem cell, genetic diagnosis and vitro fertilization centers and forensic medicine institutions are among the business fields in which our graduates would succeed in. A significant number of our graduates will be able to continue their academic studies in many distinguished universities and research institutions whom we have cooperation agreements with. Molecular biologists can be academics in universities' science, medicine, agriculture, pharmacy and veterinary faculties. In addition, graduates can work in the state sector at ministries, research institutes and within the body of state economic enterprises. In the private sector, they can be involved in research and development and quality control units in the pharmaceutical and food industries. In the medical sector, they can be selected to work at hospitals, special analysis laboratories, criminal laboratories, R&D and quality control laboratories of private organizations and in vitro fertilization units. They can work as sales representatives and technical consultants in import and export divisions of private companies in the field of Medicine and Biology. They will also benefit from a wider business opportunity with the development of new sectors such as stem cells in future.
Compulsory modules
First Semester
GENERAL BIOLOGY
The aim of the course is to make students aware of basic biological concepts and to illustrate by basic principles of life. The atomic basis of life and biomolecules; cell structure and function; cell theory, endomembrane system, differences between prokaryotic and eukaryotic cells. cell metabolism; enzymatic reactions, metabolic pathways, feedback inhibition mechanism, structure and characteristics of biological membranes, principles of osmosis and diffusion, movement of materials across membranes; photosynthesis, fermentation and respiration; cell division; Mendelian genetics; molecular basis of genetics; control of gene expression; recombinant DNA technology; mechanisms endosymbiosis theorem and evidence of evolution; the origin and history of life.
GENERAL CHEMISTRY
In this course, Enginnering and Pharmacy Faculty students will learn types of matter, measurements, properties of substanes; atoms and atomic theory, components of the atom, introduction to the periodic table, molecules and ions, formulas of ionic compounds, names of ionic compounds; atomic masses, the mole, mass relations in chemical formulas, mass relations in reactions; measurements on gases, the ideal gas law, gas law calculations, stoichiometry of gaseous reactions, gas mixtures: Partial pressures and atomic spectra, the hydrogen atom, quantum numbers, atomic orbitals; shape and sizes; electron configurations in atoms, orbital diagrams of atoms; polarity of molecules; principles of heat flow, measurements of heat flow, calorimetry, enthalpy, thermo-chemical equations, enthalpies of formation, the first law of thermodynamics, liquids and solids.
INTRODUCTION TO COMPUTING
This course presents the basics of computer systems. The course is structured in two parts; including a short history of computers, the first part of this course presents the history, basic concepts and terminology of information technology, basic hardware and software components of a computer system, and integration of computer system components. Besides the terminologies and abbreviations, the students learn about the hardware setup of a personal computer and the relations between the processor, memory and secondary devices. The laboratory part includes basic computer usage and office programs (MS Word, Excel). In the second part, basics of problem solving approaches, components and construction of computer programs, flow-charting, and modular programming issues are discussed. Basics of C programming language are covered in classroom.
READING AND WRITING SKILLS-I
This course aims to develop students' listening, speaking, reading - writing and study skills. The course provides students with the opportunity to develop their communication skills through controlled activities and to equip students with the basic study skills necessary to follow the curriculum of English. This course also provides students with the opportunity to process the newly acquired knowledge and to develop their ability to ask questions about how to apply the new knowledge to new situations and ask them to think critically. In addition, this course will enable students to learn about the different strategies required to review the various reading pieces, such as finding the main idea and distinguishing the details from the main idea.
CALCULUS-I
Calculus-I provides the methods of differential and integral calculus with applications in geometry, physics and engineering. Students in this course will learn how to use mathematical language needed for applying the concepts of calculus to numerous applications in science and engineering such as identifying types of functions, graph of functions, evaluating limit of functions, limit of elementary functions (polynomial, trigonometric, logarithmic, exponential,…), methods to solve the undefined limits (L'Hopitals Rule), continuous functions, evaluate derivative of functions, definition of derivative, derivative of elementary functions, derivative of product of two functions and division of functions, applications of derivative, evaluate integrals of functions, definition of the integral, integral of elementary functions, substitution method, integration by parts, integral of rational functions, application of the integral (finding the area) .
GENERAL PHYSICS-I
The aim of the course is to provide the basic information in order to help the students to understand the possible complicated problems in engineering. In this regard, the basic principles and methods of solving the problems in physics are thought. The course provides a basic grounding in elementary physics including mechanics. The basic subjects of the course are: Units and dimensions, Uniformly accelerated motion in one dimension, Freefall, Vector mathematics, Two dimensional motion, Newton's laws of motion, Applications of Newton's laws, Free body diagrams, Circular motion, Work and energy, Conservation of energy, Momentum, impulse, and collisions, Rotational kinematics, Torque, Static equilibrium. For completeness, the students are supposed to do 6 experiments related to the subjects of the course.
Second Semester
ORGANIC CHEMISTRY
Basic reaction types, reaction mechanisms of functional groups, of organic compounds like alkanes, alkenes, alkynes, benzene and aromatic hydrocarbons, alkyl halides, alcohols, ethers, epoxides, thiols, the carbonyl groups, aldehydes, and ketones, carboxylic acids and their derivatives, amines. Also nomenclature and stereochemistry will be presented. Structure and bonding, alkanes, alkenes and alkynes, reactions of alkenes and alkynes, aromatic compounds, stereochemistry, organohalides, nucleophilic substitutions and eliminations, alcohols, phenols, ethers will be included. Aldehydes and ketones, carboxylic acids and derivatives, carbonyl alpha substitution and condensation reactions, amines, spectroscopy, biomolecules, carbohydrates, amino acids, peptides and proteins will be covered. Credits: ( 3-0) 3 Prerequisites: None ECTS credits: 5 Abbreviated Title: Organic Chemistry I Category: Faculty Core Teaching Language: English
READING AND WRITING SKILLS-II
This course is the continuation of ENG 101. The course aims to improve students' listening, speaking, reading, writing and working skills. In the course, students are guided in writing compare and contrast essays using Venn diagram. In addition, the aim of the course is to learn the necessary conjunctions for composition writing. In addition, the students will be able to write a four-part critical composition by learning the difference between ideas and factual real sentences and how to write the opposing opinion and sentences used to refute it. Thus, the students will be able to distinguish between the compare and contrast essay and discursive essay. Students will also be able to make presentations by using presentation techniques. In addition, this course aims to summarize the reading pieces of the students and to use the strategies of reading and to draw conclusions and meanings using their reading skills.
CALCULUS-II
This course provides the methods of differential and integral calculus with applications in geometry, physics and engineering. Topics included are as follows: Sequences and infinite series, properties of sequences, test for convergence, tests for series with both positive and non-positive series, absolutely convergence and conditionally convergence . Power series, Taylor and Maclaurin series, the radius of convergence. Parametric equations and Polar coordinates, the graph of polar equations, the area in polar coordinates, arc length, speed on a curve and derivative of polar equations. Vectors and vector-valued functions, dot product and cross product of two vectors. Lines and Planes. Functions of several variables, their domain, limit and partial derivatives and definite integral of a function over a region.
INTRODUCTION TO MOLECULAR BIOLOGY AND GENETICS
The main objectives of the course are to introduce the main concepts of molecular biology and genetics and to provide hands on experience in research techniques. This course emphasizes cell biology, universal futures of cells, laboratory guidelines and laboratory safety, internal organization of cells, cellular transport mechanisms, chemical organisation of living organisms from atoms to molecular structures, basic cellular reactions, importance and role of ionic composition of living organisms and the molecular mechanisms of DNA replication, repair, transcription, protein synthesis, and gene regulation. During this course up to date methods in molecular biology and genetics and scientific methodology will be covered.
GENERAL PHYSICS-II
This course provides the basic information to help the students to understand the possible complicated problems in engineering. The subjects of the course are mostly Electricity and Magnetism. The basic subjects of the course are Properties of electric charges, Coulomb's law, and Electric field of a continuous charge distribution, Gauss's law and electric flux. Application of Gauss's law to charged insulators, Obtaining the value of the electric field from the electric potential, Electric potential and the potential energy due to point charges, Electric potential due to continuous charge distributions, Electric current, Resistance and Ohm's law, Electromotive force, Resistors in series and in parallel. Kirchhoff's rules. For completeness, the students are supposed to do 6 experiments all are related to the subjects of the course.
Third Semester
BIOCHEMISTRY-I
The main topics are water and pH, structure of carbohydrates, lipids, amino acids, proteins and nucleic acids, enzymes including mechanism of action, enzyme kinetics, regulation of enzyme activity, coenzymes, and bioenergetics. The structure of proteins, carbohydrates and lipids, cell membranes, are covered as well as structures and mechanisms of action of several membrane channels, pumps and receptors. Transducing and storing energy is covered as part of introduction to metabolism. The molecular details of nucleic acid structure, DNA replication, RNA synthesis, processing and regulation, gene expression, protein synthesis, techniques in protein biochemistry will also be covered. Transcription of DNA into RNA and then translation at the ribosome are among the emphasized areas as well as protein/enzyme structure/function, macromolecule structures.
HISTORY OF CIVILIZATION
The aim of this course is to outline the development of civilizations in the course of history. It firstly focuses on the concepts such as "Civilization", "Prehistoric", and "Historic" and on the factors forcing the emergence of the first civilizations. As well as examining the prehistoric periods and their characteristics in the course of human life since the first appearance of human beings on earth, the course mainly focuses on the early civilizations, namely the Mesopotamian, Egyptian, Aegean, Classical Greek, Hellenistic, Indian, Chinese and Roman Civilizations. Political, social, economical, cultural, intellectual, philosophical and scientific aspects in these entities are also examined in this course.
CELL BIOLOGY
This course aims to provide a general introduction to molecular cell biology to demonstrate how molecular cell biology explains cell function at the level of an individual cell, and as part of a tissue or organism. Topics include cellular communication, growth, interactions, division and cell death. Insight into how cells produce and export proteins and how external material is endocytozed will be covered. Intracellular compartments of eukaryotes will be described in detail. Structure and function of membrane-bounded organelles, protein targeting, endoplasmic reticulum, secretory and vesicular transport, cytoskeleton and cell movement, extracellular matrix and connective tissues, hematopoietic and non-hematopoietic cells will be discussed in detail. The course includes a laboratory module where you will analyze how cells behave in a cell culture dish.
PHARMACEUTICAL MICROBIOLOGY
This course provides theoretical and practical microbiological knowledge essential for pharmacists. Students will obtain knowledge on saprophytic and pathogenic microorganisms. They will learn the importance of microorganisms, learn the effects of microorganisms on pharmaceutical industry and pharmaceutics produced from microorganisms, obtain knowledge on infections caused by microorganisms and antibiotics that are used for their treatment, handle in-vitro sensitivity tests for antibiotics and assays for microbiological activity, learn and perform the principals of sterilization and disinfection. Pathogenic bacteria, cell structure, virulence factors, biofilms, antimicrobial drugs, mechanisms of action of pharmaceutical agents and antibiotic resistance, introduction to mycology, genetic transfer in bacteria and antimicrobial resistance, microbiome and its role, viruses and parasites, viral diseases, parasitic diseases, and their drugs will also be covered.
MODERN TURKISH HISTORY
In this course, Ottoman state and society, factors causing the collapse of the state; Ottoman modernization; Tripoli and Balkan Wars, World War I, Mudros Armistice and Sevres Agreement; parties and associations, the national resistance movement led by Mustafa Kemal, the Havza and Amasya Circulars, the Congresses, the National Pact, the Turkish Grand National Assembly; the rebellions, the regular army and the War of Independence; the Mudanya Armistice, the Lausanne Peace Treaty; Revolution in the political field, secularization of the state and society, abolition of the sultanate, declaration of the republic, abolition of the caliphate; 1921 and 1924 constitutions, constitutional changes; Sheikh Said Rebellion; Multi-party experience, secularization and modernization in law, nationalization and secularization in education, Kemalizm and 6 principles, Turkish foreign policy(1923-1938) are covered.
Fourth Semester
BIOCHEMISTRY-II
The main topics are metabolism of carbohydrates and its control, metabolism of lipids and amino acids/proteins and nucleic acids and their control, function and replication of information macromolecules, hormones and mechanism of hormone action and integration of metabolisms. Also special topics like cellular respiration, hemostasis, biological membranes and transport mechanisms will be discussed. Main focus will be on TCA cycle (Kreb's cycle), Oxidative Phosphorylation, Glycolysis, Gluconeogenesis, Ketogenesis, Pentose Phosphate Pathway as well as the hormone regulation of these pathways and enzymatic activities/mechanisms. Inhibitors and activators of these pathways as well as their energy usage and production mechanisms and reactions will be discussed. Biochemical basis of gene regulation mechanisms will also be discussed.
GENETICS
The course covers the genetic properties of prokaryotic and eukaryotic cells in living systems. The main topics of the course are nucleic acids (DNA & RNA) and how they replicate, details of how they transcribe DNA to generate messenger RNA (mRNA) and the process of translation of mRNA to proteins. Expanding on these processes, there is focus on gene editing techniques, DNA fragmentation and the use of restriction enzymes in molecular cloning techniques. Other topics of discussion include the different types of mutations, DNA repair, DNA recombination, post-transcriptional and post-translational regulation and small non-coding RNAs. Mitochondrial DNA and mitochondrial diseases are also discussed.
BIOSTATISTICS
The main topics of this course are basic statistical definitions, definitions of population and sample, types of data, descriptive statistics, and classification of data. Then, discussing the measures of central tendency such as calculating mean, median and determining mode; and measures of dispersion such as calculating range, variance and standard deviation. In addition to these, students are able to work on frequency tables, data visualization by graphics, probability distributions, some well-known discrete and continuous probability distributions such as normal, binomial and Poisson distributions. Finally, statistical tests for checking normality, the main idea of sampling, sampling distributions and sampling distribution of mean and confidence intervals will be covered in this course.
TURKISH LANGUAGE
This course examines basic areas of language and expression. In the first half of the course, the theoretical approach to language is formed and the spelling rules of the Turkish language are studied. In the latter part of the course, language and narrative errors are studied together with editing. In the second half of the course, formal writing, curriculum vitae, petition, evaluation of the columns in terms of language and style, types of written expression and practice; Turkish production and application of shooting attachments; Turkish grammar structure; It is aimed to teaching subjects like phonetics of Turkish to students.
TURKISH
This course provides an orientation to modern Turkish language for foreign students who wish to communicate in this language for their needs. It mainly focuses on the differences between Turkish and English Alphabets, especially the sounds and the letters which are not included in the English alphabet (i.e. Turkish letters ç-ğ-i-ö-ş-ü). In addition, basic grammar and sentence structure forms in Turkish are practised. The required grammar and vocabulary will also be developed through their adaptation to daily situations in contexts such as introducing yourselves, greeting, talking about the things they possess by using possessive adjectives, forming positive, negative and question sentences by using present simple, telling the time, talking about their own timetables, using demonstrative pronouns when describing the place of objects and becoming familiar with vocabulary related to family members.
Fifth Semester
HUMAN GENETICS
This course is an introduction to the basic structure and function of cells, with an emphasis on eukaryotic cell biology. Topics include details of the eukaryotic cell-cycle and its checkpoints. Gene expression and its regulation are introduced. Protein structure and metabolism; gene replication, repair, recombination, and expression; RNA processing and metabolism, and molecular transport, trafficking, and signalling are covered. Human genome organization, chromosomal structure, genotype phenotype relations, alleles are also covered. Interactions between different alleles, mutations and hereditary diseases are explained. Genetics and genomic tests are discussed. Monogenic diseases as well as common complex diseases are covered. Importance of Molecular Cell Biology for biotechnology and the society are highlighted.
MOLECULAR GENETICS
This course was particularly designed to convey molecular genetics subject matter by disease and developmental regulation of gene expression based learning. This problem based learning (PBL) strategy includes human "Hemoglobin Switching" as the core molecular genetics approach for understanding the molecular bases of globin gene regulation in particular Beta-Thalassemia. This course covers chromosome structure and organization; Gene expression, RNA processing and Protein synthesis in eukaryotes; genetic engineering; genetic stability and instability; genetic mutations and DNA rearrangements; genetic analysis; mouse genetics and knockout experiments. Course objectives include understanding the basic principles of molecular biology and genetics, gene regulation, interaction between genes and their environment, the nature and importance of genetic information in cells, animal models in molecular genetics and techniques utilized in molecular genetics.
Sixth Semester
ANATOMY -PHYSIOLOGY-I
In Anatomy and Physiology I lecture, students will be introduced to a comparison between anatomy and physiology; functional organization of human body; terminology used in these two sciences and an insight into the important concept in physiology called homeostasis. This is followed by the cellular and chemical organization of an organism. Histology of different types of tissues; epithelial, connective, bone and muscle tissues are also studied, with histological methods and microscopy used to investigate tissues. In addition to these introductive topics, students are informed on anatomy and physiology of organ systems, namely musculoskeletal system; nervous system; and cardiovascular system. The course will also provide information on the physiology of blood; coagulation disorders and anaemia, Pathology of diseases relative to organ systems studied will be discussed.
MOLECULAR BIOLOGY I
The course provides both theoretical and practical in depth explanations of several molecular biology concepts and laboratory techniques. The main topics of this course include analyses of structure and function of various enzymes used in molecular biology, detailed presentations on DNA/ RNA purification, DNA/RNA analyses and calculations, different types of PCRs and their uses, the applications and methods of DNA cloning, design and functions of plasmid and mammalian vectors and how they are used in research, yeast two hybrid systems, the design and uses of DNA libraries, history of DNA sequencing, uses and technological advancements. Throughout the course, data from primary literature are analyzed and practice problems are solved. This course should be taken together with MBGE304- Molecular Biology Lab I.
IMMUNOLOGY
In this course, the students are introduced to the topics of immunology, antigen and antibody recognition and selection, cellular and humoral immunity, hypersensitivity reactions. Vaccines, vaccine generation, importance and action mechanisms of vaccines are covered as well as transplantation of tissues and organs, methods and possible complications. Antibody development and antibody engineering, immune cell structure/function/sorting and molecular basics and techniques of immunology are covered. The structure of antibodies, T-cell and B-cell receptors, MHC, and their functions are included among topics. V(D)J recombination, its mechanisms and enzymes are discussed as well as the details of somatic hypermutation. Positive and negative selection of immune cells, potential complications and autoimmune diseases that can arise from immune system dysfunction are discussed.
Seventh Semester
GENETIC ENGINEERING
The main focus of the course is on the fundamental principles and techniques used in gene manipulation. The course provides an introduction to the fundamentals of molecular biology, the methods used to manipulate genes, and applications of the technology. During this course basic features of genetic engineering, emergence and historical development of gene manipulation technology, genomic organisation, gene expression and regulation, techniques for isolation, handling, and processing of nucleic acids, principles of nucleic acid hybridisation, gel electrophoresis techniques, and DNA sequencing, enzymes used in gene manipulation, features of plasmid and bacteriophage vectors and DNA sequence cloning strategies will be covered.
MOLECULAR BIOLOGY II
The course provides both theoretical and practical in depth explanations of several molecular biology concepts and laboratory techniques. This course should be taken after MBGE302 and with MBGE403 - Molecular Biology Lab II. The main topics include the study of the characteristics, functions, biogeneses and molecular detection methods of small non-coding RNAs such miRNAs and piRNA and long non-coding RNAs. Students will also learn how to design miRNAs. These topics will be followed by the study of amino acids, protein structure, folding and degradation and the characteristics of enzymes, enzyme structure, and function. Enzyme kinetics will be discussed including how to compute for Km, Vmax and how to use the Michaelis-Menten equation. Antibody characteristics, function, design and production will also be analyzed followed by the history, development and applications of several transgenic animal models in Molecular Biology research. Throughout the course, data from primary literature will be analyzed and discussed.
SEMINAR
This course is designed to teach students how to carry out independent literary research using online sources. Students will learn how to read, interpret and present data from primary research articles in the field of molecular biology, genetics, biochemistry, structural biology, immunology and cell biology. Students will develop necessary skills to critically think and understand the problems presented within research articles and how the authors of those articles have developed innovative ways to tackle the questions at hand. Each week students will pick an article for discussion in class and will present/talk about the article's research questions, hypotheses, methods, main findings and conclusions and mention the strengths and weaknesses of that publication.
Eighth Semester
SPECIAL PROJECT
In this course, students will carry out independent and interdisciplinary research on a topic of interest under the supervision of faculty/mentor(s). Students will first formulate scientific research questions and hypotheses and submit a project proposal. They will then investigate their hypotheses by carrying out literary and/or laboratory research. Students will present their findings at regular intervals to their mentor and other students in the course and be prepared to discuss and defend their hypotheses and data. Upon the completion of their research, students will write up a report and present their final findings.
BIOETHICS
This course will provide students with an understanding of the principles of bioethics, main terms and concepts, as well as decision-making procedures that students can use to discern and defend moral courses of action in scientific research and healthcare. There will be an examination of the history of research ethics which include the Nuremberg Code, Universal Declaration of Human Rights, Declaration of Geneva and Helsinki, the Belmont Report and general guidance procedures drawn up by the FDA and other institutions for clinical trials. The course will cover the ethical methods of reasoning and will teach how to identify moral problems in research and how to tackle those problems with moral deliberation and judgement. Students will also gain an understanding of the importance of consent, agency, autonomy, right to self determination, privacy and confidentiality in research involving human participants. Other areas of discussion will include stem cells and regenerative medicine, euthanasia, reproductive ethics, neuroethics and ethical issues surronding the use of animals, cell lines (HeLa cells), pandemics, vaccine development and mandates.
Optional modules
INTRODUCTION TO CANCER BIOLOGY
Cancerous cells can invade and destroy surrounding healthy tissue and may lead to multiple organ failure; therefore, this course aims to identify the major types of cancer and the rate of incidences worldwide, list and describe the hallmarks of cancer, while also differentiate the contribution of genes to the risk and growth of cancer. Furthermore, the course aims to define metastasis and identify the major steps involved in the metastatic process. The role of imaging and screening, diagnosis, staging, and treatments of cancer will be described thoroughly. Finally, this course aims to build a platform for basic cancer biology understanding in preparation for more detailed molecular mechanisms of carcinogenesis and tumor biology.
STEM CELL BIOLOGY
The course provides students with detailed information on the fundamentals of stem cell biology, different types of stem cells (i.e. embryonic, fetal, adult and inducible pluripotent stem cells) and their clinical applications. Properties of stem cells (i.e. multi-potency, differentiation and so on) are outlined. In this course, different types of stem cells; their sources, properties and applications in regenerative medicine will be described. Interactions between stem cells and their environment (i.e. niches) are emphasized. Current research in the field of stem cell therapy is highlighted. The advantages and disadvantages of the current stem cell therapy are outlined and peer reviewed articles are discussed.
MOLECULAR BIOLOGY AND MICROBIAL FOOD SAFETY
The course aimed at providing a basic food safety and hygiene information in terms of molecular biology. At the beginning students will understand the importance of food safety, the characteristics of food-borne illness, methods of waste disposal, importance of pest control, the nature of food safety hazards (microbiological, physical, chemical and allergenic), the types, sources, vehicles and routes of contamination. Later on the lecture will focus on genes - their structure and function - therefore, students will study nucleic acid structure and the mechanics of replication, repair, transcription, and translation in any microorganisms related with foodstuff. Students will also learn how to use molecular biology and molecular biologic methods to analyse the presence of biological, chemical and physical contaminants.
REPRODUCTIVE GENETICS AND TECHNOLOGIES
In this course, students will investigate the biological processes of reproduction, including the endocrinology and physiology of male and female reproduction, puberty, lactation and menopause. They will gain an understanding of the determinants of fertility and infertility, and how reproductive biotechnology is used to overcome poor fertility. This course will also include a focus on the genetics of normal and disordered pregnancy. Students will explore how reproductive biology impacts other aspects of health, including implications of early life exposures to future health problems and the biology of reproductive cancers. Social and ethical implications of reproductive technologies and research will be discussed within appropriate topics. Students will have opportunities to hear from scientists and practitioners with relevant expertise.
SOCIOLOGY
This introductory course in Sociology begins with an overview of the nature of the discipline, followed by a survey of various aspects of the structures and dynamics of social life. The history of sociology, the views of its founders and the major modern sociological perspectives are examined afterwards. Research methods and theories in sociology are explored to illustrate how thinking sociologically adds to our knowledge of the world around us. In this course, basic topics of sociology such as culture, socialization, media, family, education, social stratification, urbanization, social change are analyzed through different sociological perspectives. The course is accommodated to groups of students with different backgrounds and professional education. Class discussions on covered topics are encouraged and are valuable parts of this course.
MOLECULAR MICROBIOLOGY
The underlying aim of the Molecular Microbiology course is to provide deeper insight into how microorganisms work at the molecular level. Being the most abundant life forms on the planet, the reservoir of microbial genetic material available to drive evolution, coupled to the subsequent influence on the dynamics of biological matter and processes at a cellular and sub-cellular level will be discussed. Many microbial activities are of great benefit to man and as such, their advantages and uses in modern molecular and biotechnology including yoghurt, cheese, bread and alcohol production, nutrient cycling and detoxification of pollutants will be discussed. Conversely, the harmful aspects of microbes including their pathogenicity, virulence factors, infectivity, the types of microbial disease pathology and their intra/extracellular life cycles will be discussed.
BIOLOGY-I
The course starts with a brief introduction on evolutionary and environmental adaptations of the human beings. Students are provided with an understanding of the biological bases of behavior. The course includes a short introduction on the importance and methodologies used in the biological sciences and describes the basic characteristics of living organisms, the chemical and physiological basis of vitality, the cell, its organelles and their functions. Students are familiarized with scientific articles on biology. Anatomy and the physiology of the cell is introduced with emphasis on understanding the functions of the nerve cell. The course is specifically dedicated to the human nervous system as well as brain mechanisms.
MOLECULAR BIOLOGY OF CANCER
The complexities of the causes and the different types of cells that give rise to this disease have underscored the need for a better understanding of the basic biology of cancer; therefore, this course aims to provide a comprehensive overview of the biology and pathology of cancer. The course mainly focuses on the genetics and the molecular basis of cancer. The course explores the role of mutations in cancer cells, and how they lead to the dysregulation of essential biological properties like programmed cell death, cell proliferation and differentiation. Furthermore, the influence of environmental factors in cancer susceptibility and comparisons of the classic treatment methods with newer treatment strategies like targeted therapies are elucidated.
GENETICS AND PERSONALIZED MEDICINE
Personalized medicine and pharmacogenetics both promise exciting new developments in healthcare; hence this course aims to allow students to explore the potential of the aforementioned topics while also taking a closer look at genetics, the human genome, genome and exome sequencing, pharmacogenetic tests and a review of current literature. The course also aims to focus on the use of personalized medicine in different diseases including infectious diseases, cancer and neurological disorders. Topics covered include molecular diagnostic tools that are widely used in personalized medicine, importance of variations, genotyping, haplotyping and biomarkers in personalized medicine, basics of pharmacogenetics and focus on personalized medicine.
INTRODUCTION TO PHILOSOPHY
Philosophy is the attempt to answer the deepest and most fundamental questions about the universe, mind, society, art, etc., in brief, all aspects of the human life. The aim of this course is not only learn the ideas of the great philosophers of the history, but also explore how to improve critical and philosophical thinking skills. The course is designed to acquaint students with the concepts, methods, problems, and theories of different areas within philosophy. İn addition to these, the one of the main objective of the course is to provide an perspective of the philosophy's relation to other disciplines such as sociology, psychology, education, law, etc.
HISTORY OF SCIENCE
Topics to be discussed in the course are: The human need to know and the differences between science and other forms of knowing, the emergence of science in ancient civilizations, scientific works of Plato, Aristotle, Eucleides, Archimedes and Ptolemy, science and philosophy in medieval Europe, science in Islamic Civilization, the scientific studies of Farabi and Avicenna, the effect of Islamic science on the West, scientific studies of Roger Bacon, Francis Bacon and Copernicus, science in Renaissance and Enlightenment, the intellectual foundations of the scientific revolution, the works of Kepler, Galileo and Newton, the birth of the first science societies in Europe, examples from 20th century science, developments in physical, biological and social sciences in the 20th and 21st century.
HISTORY OF MODERN CYPRUS
The aim of this course is to help students develop skills to examine the recent past of Cyprus from a historical perspective since the Ottoman conquest, and know more the island. The formation of Muslim community, Orthodox Christians and other people of Cyprus: Armenians, Maronites, Jewish and the others, Orthodox Church; Ottoman Modernization: local advisory councils, the advent of Telegram, Nicosia Rüştiye (first modern secondary school), non-Muslims' educational and cultural institutions, Quarantine, soldiering; British colonial rule and administrative institutions; cultural, social and economic transformation; The rise of Greek nationalism, Enosis, Turkish Cypriot nationalism; de-colonization and foundation of Republic of Cyprus, intercommunal conflicts, the foundation of TRNC, Cyprus Question, Intercommunal talks, Annan Plan and Referanda, are the main content of the course.
INTRODUCTION TO HUMAN SEXUALITY
In this course, students will learn about how research on human sexuality is conducted and become familiar with some of the key historical figures in the field. Students will learn about sexual anatomy, the stages of the human sexual response cycle, what enhances and inhibits each of these stages from both a psychological (e.g.relationships, mood, past experiences) and physiological (e.g.hormones, neurology) perspective. Different sexual problems, clinically diagnosable, and their treatment will also be examined. The goal of this class is to provide students with a broad overview of how humans function sexually. In addition, topics such as pregnancy, contraception, sexually transmitted diseases, and sexual orientation will also be covered.
TR Applicants
TR Students who are successful in the exams conducted by the Higher Education Council Student Selection and Placement Center (ÖSYM) and are entitled to enroll in our university in line with their preferences can complete the registration process with the necessary documents for registration from our Registration and Liaison Offices throughout Turkey or from the Marketing Directorate on campus.
Click for detailed admission requirements information.
TRNC Applicants
TRNC citizens and TR citizen candidate students who have completed their entire high school education in TRNC. They are placed in undergraduate programs in line with their success in the CIU Student Placement and Scholarship Ranking Exam and the programs they prefer.
Students who are successful in the exam can register from the TRNC Marketing Office.
Applicants can directly apply online to our undergraduate programs by using the application portal. Please fill in your details correctly and upload all the required documents listed on the last page of the application form.
Required documents;
Completed application form,
Higher/Secondary Certificate or equivalents (e.g. O/A'Level, WAEC/NECO)
Evidence of English Language competence: TOEFL (65 IBT) or IELTS (5.5). Students without these documents will take the CIU English proficiency exam on campus following arrival,
Scanned copy of international passport/birth certificate,
Fully completed and signed CIU Rules and Regulations document (which can be downloaded during the online application).
Cyprus International University provides academic scholarships for its students as an incentive for success, with most students benefiting from 50%, 75% or 100% scholarships or discounted tuition fees. Click for more information.
| | | |
| --- | --- | --- |
|   | Non-Scholarship | 50% Scholarship |
| Undergraduate Programs | € 5.843,00 | € 3.099,00 |
Click for more to learn about fees in line with the Tuition Fee Calculation system.